Therefore let us also, seeing we are compassed about with so great a cloud of witnesses lay aside every weight, and the sin which doth so easily beset us, and let us run with patience the race that is set before us, looking unto Jesus the author and perfecter of our faith, who for the joy that was set before him endured the cross despising shame, and hath sat down at the right hand of the throne of God. For consider him that hath endured such gainsaying of sinners against themselves, that ye wax not weary, fainting in your souls. (Apostle Paul)
VISION: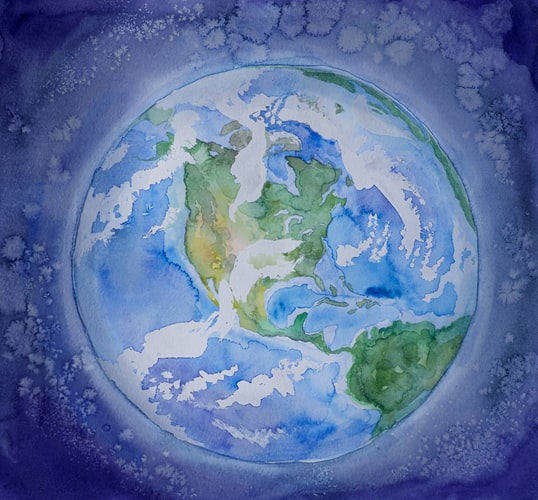 In this vision, from many years ago, I am floating in space observing the earth as a globe. The earth was encircled all around with ethereal white moving clouds. In front of me and also hovering in space was the Lord Jesus with the earth behind Him. He had His left hand on His chest and the other right hand extended outward. His appearance was like the clouds in substance but His features were still well defined and visible. (It just occurred to me that He was made of the same ethereal white fabric as the clouds encircling the earth.)
INTERPRETATION:
Within the context of this vision, the moving clouds are recognized as awesome Saints of the Faith. That is to say, witnesses who – during days of antiquity – lived by faith and who are still encircling the earth today! On another level, these moving clouds are also composed of a faithful company of people who have been called to evangelize around the globe and share gifts of the Spirit for the benefit of His Church worldwide. That Jesus had His right hand extended symbolized the calling to become part of these clouds. At that time, I had little to no knowledge of scriptures and I was hard pressed to understand the vision. But with the invitation also came the calling to read and study scriptures as seen in multiple visions afterwards. At times silver spoons were shown on Bibles; other times forks were shown for the deeper meat or substance of the Word (Heb.5:14). It was a time – years – of being equipped and of preparation on different levels, and still is.
The purpose of sharing this vision today is to encourage the body of Christ to live by faith in His finished works. Let us consider the great biblical overcomers – the Cloud of Witnesses – identified by Apostle Paul in Hebrews Chapter 11 as the great and faithful Patriarchs of old as an example. These verses call us to ponder the matter of faith and really think about what that uniquely means to each and every one of us on a personal level. As faithful Believers, we are sons and daughters of our FATHER. I am hearing: "KING!" Yes, we are Heirs of royalty! We share the same Spirit as the King of Kings and Lord of Lords. We are made of the same fabric! And by nature of that heavenly inheritance, that makes us a very particular and strong people, a people of the faith! A people of righteous living and of accomplishments in obedience to the Lord! And though we might get knocked down at times, we dust ourselves off and get up again because that is what the old inspiring and aspiring patriarchs and witnesses did, and that is what faith does! We get up, again and again if we have to, and even stronger than our last battle because we have learned the lesson, we have learned to rest in Christ, we have become wiser, we have increased in faith!
If you are weary in the faith today and feel faint, you are called to recognize, by virtue of the redeeming Cross of Christ, your identity as heirs of royalty. Bring to remembrance that during times of chastisements, affliction, opposition or oppression you are never, ever alone, although it might feel like that at times. The truth is that you are encircled by an awesome cloud of witnesses whose testimonies of faith and works will be like comforting raindrops on your battle-weary and parched souls. And let us never forget that we are immeasurably loved and blessed beyond human comprehension by Christ our King! If you will let Him, He will battle for you and alongside you as He wields His mighty glistening Sword of Truth. Onward and upward, awesome Christian soldier of Light! You are an overcomer in Christ, you are of the Faith!'
Recommended Reading: Hebrews Chapter 11 and 12
Be blessed in your inheritance today! Be blessed in the faith!
Suzanne