"For the Son of man is come to seek and to save that which was lost." (Lk. 19:10)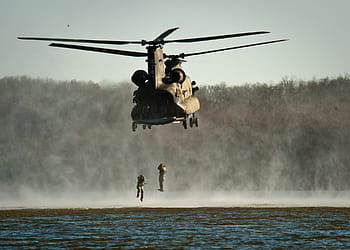 Two days ago In a dream – a prophetic one – I am hearing a sound and feeling vibrations. Next, I am hovering over the sea and I am acutely aware that something is being dragged out from the bottom. Suddenly as the sound gets louder, a helicopter powerfully emerged out from the water and deposited something on a large dock. It was then that I saw it had been dragging the ocean for wheat! As I continued looking at the scene I noticed that the wheat, which was standing straight up, had reached different levels of growth. Some stalks were tall, some stalks were medium in size and others were shorter. The dream continues as I want to know why the wheat had been stuck in the ocean floor. That is when I find myself underground somewhere looking inside a large room that contained a dark herculean-sized serpent. It confirmed what I knew all along. End of dream.
Helicopters, unlike planes, conduct more specialized missions.  Among other functions, they are used in the military and for search parties. Unlike planes their revolving blades are positioned at the top.   It is clear that this helicopter is symbolic of genuine ministries anointed for warfare. The sharp revolving blades at the top represent the active and living Word of GOD that govern these spirit-filled ministries. From a biblical perspective, the sea represents people from all nations who are being governed by different political and religious systems. Most, if not all, of which are being governed by the Spirit of the Serpent (Satan the Devil). The recouped wheat symbolize Believers who, despite the Serpent's influence, have reached different levels of spiritual understanding and maturation (different size of wheat stalks).
Anointed latter-day ministries have been assigned to help many, including the underground Church, get to a place of spiritual safety, repentance, belief and faith in preparation for the final harvest. This is yet another dream confirming days of preparation before angelic sickles trust into the fields of the earth before the great and dreadful day of the Lord. The battle for souls will become even more fierce in coming days because the angered and worried Serpent knows his time is drawing short. Yet he is being temporarily and provisionally sequestered in preparation for the final harvest (the room). His influence, although presently very strong, is nonetheless still limited. But sooner than we might know, he will be released from his contained quarters. And having even greater wrath, all of hades will break loose with him. As testified in scriptures, it will be an unprecedented time of evil and of upheaval on planet earth.
There is strength in numbers and I kindly solicit your prayers for GOD-assigned ministries; that they will accomplish their evangelizing missions successfully and safely. And because we are also called to be doers of the Word, it behooves Believers to help them help others with provisions and/or with finances if possible. Pray for the lost everywhere! At this critical juncture in time, it is a matter of life and death for multitudes around the world.
"Why do the nations rage, And the people plot a vain thing? The kings of the earth set themselves, And the rulers take counsel together, Against the Lord and against His Anointed, saying, "Let us break Their bonds in pieces and cast away their cords from us." He who sits in the heavens shall laugh; The Lord shall hold them in derision. Then He shall speak to them in His wrath, And distress them in His deep displeasure: "Yet I have set My King On My holy hill of Zion." "I will declare the decree: The Lord has said to Me, 'You are My Son, Today I have begotten You. Ask of Me, and I will give You The nations for Your inheritance, And the ends of the earth for Your possession. You shall break them with a rod of iron; You shall dash them to pieces like a potter's vessel.' "Now therefore, be wise, O kings; Be instructed, you judges of the earth. Serve the Lord with fear, And rejoice with trembling. Kiss the Son, lest He be angry,And you perish in the way, When His wrath is kindled but a little. Blessed are all those who put their trust in Him. (Psalm 2:1-12)
Keep the Faith. Always!
Suzanne