VISION:
Sometimes words of knowledge are conveyed audibly. At other times they can be spoken through visions, as was the case yesterday. Words of Knowledge: "CROSS BEARER" It was confirmed this morning that the vision and words of knowledge had two meaning, as detailed in the two following subheadings:
INTERPRETATION:
The Believer's Cross
"And when he had called the people unto him with his disciples also, he said unto them, Whosoever will come after me, let him deny himself, and take up his cross, and follow me. For whosoever will save his life shall lose it; but whosoever shall lose his life for my sake and the gospel's, the same shall save it. For what shall it profit a man, if he shall gain the whole world, and lose his own soul? Or what shall a man give in exchange for his soul? Whosoever therefore shall be ashamed of me and of my words in this adulterous and sinful generation; of him also shall the Son of man be ashamed, when he cometh in the glory of his Father with the holy angels." (Mark 8:34-38)
'Taking up the cross' in these verses do not relate to self-mortification nor does it relate to crosses of burden. Instead, it is a call for the Believer to "take action" daily in making GOD and HIS plan of redemption through Jesus Christ the center of his life and world. By doing so, the Holy Spirit has room to express Himself and bring to one's awareness and remembrance things that do not conform with GOD's Will; things that interrupt the Believer's walk with Christ. It might have something to do with: parting company with certain people; avoiding going to certain places; reading the word more often. It could even relate to someone who is ill but is going through this difficult time differently because he has faithfully made the Lord and his finished works the center of His existence. The list is ongoing and is certainly unique to each individual's walk with Christ. To be a Cross Bearer in this sense allows the plan of redemption to manifest in one's life, regardless of circumstances and conditions. I am hearing in the Spirit: "Tu as raison". After looking up the correct translation in English, it means: "You are right". Thank you Lord for the confirmation!
Shouldering the Cross:
"Then they compelled a certain man, Simon a Cyrenian, the father of Alexander and Rufus, as he was coming out of the country and passing by, to bear His cross." (Mk. 15:21)
Following severe flagellation, Jesus was too exhausted and weak to bear His Cross. Consequently, Simon of Cyrene was ordered by Roman soldiers to help carry the Cross.  The name Simon in Hebrew means one who "hears" and "listens". When Simon heard the orders to help bear Jesus' Cross, he listened and did so. Altogether and by analogy, this applies to Believers who hear and listen, through inspiration of the Holy Spirit, the call to take action in helping neighbors in need.  In the process, they are faithfully fulfilling the two greatest commandments that is central to the New Covenant: "To love God and love your neighbor as yourself." To be a Cross Bearer in this sense is to willingly shoulder people's burdens which can manifest in multifarious ways; it's a big world. In fulfillment of these righteous and loving acts we are helping the Lord directly and personally, as confirmed in following verses. This becomes even more profound in meaning when helping other Believers because they are spiritually indwelled by the Lord.
Related Verses:
"Therefore, as we have opportunity, let us do good to all, especially to those who are of the household of faith." (Gal.6:10)
"When the Son of Man comes in His glory, and all the holy angels with Him, then He will sit on the throne of His glory. All the nations will be gathered before Him, and He will separate them one from another, as a shepherd divides his sheep from the goats. And He will set the sheep on His right hand, but the goats on the left. Then the King will say to those on His right hand, 'Come, you blessed of My Father, inherit the kingdom prepared for you from the foundation of the world: for I was hungry and you gave Me food; I was thirsty and you gave Me drink; I was a stranger and you took Me in; I was naked and you clothed Me; I was sick and you visited Me; I was in prison and you came to Me. Then the righteous will answer Him, saying, 'Lord, when did we see You hungry and feed You, or thirsty and give You drink? When did we see You a stranger and take You in, or naked and clothe You? Or when did we see You sick, or in prison, and come to You?' And the King will answer and say to them, 'Assuredly, I say to you, inasmuch as you did it to one of the least of these My brethren, you did it to Me.' Then He will also say to those on the left hand, 'Depart from Me, you cursed, into the everlasting fire prepared for the devil and his angels: for I was hungry and you gave Me no food; I was thirsty and you gave Me no drink; I was a stranger and you did not take Me in, naked and you did not clothe Me, sick and in prison and you did not visit Me.' Then they also will answer by saying, 'Lord, when did we see You hungry or thirsty or a stranger or naked or sick or in prison, and did not minister to You?' He will answer them, saying, 'Assuredly, I say to you, inasmuch as you did not do it to one of the least of these, you did not do it to Me.' And these will go away into everlasting punishment, but the righteous into eternal life." (Mat. 25:31-44)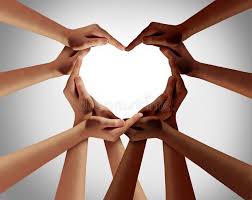 Keep the Faith! It keeps all who are His.
Suzanne