This message is not about promoting a doomsday mindset but rather one that calls us out to spiritually prepare; to turn to Christ with all of our hearts and minds. It also calls us to prepare physically as guided by the Holy Spirit. (The Lord is coming back, perhaps sooner than we know, for His spotless Bride.)
VISION:
About fifteen years ago, I was shown in vision a large ball of fire in space. From this ball of fire another smaller ball of fire appeared; it was attached to the first ball of fire by a gaseous fiery cord of some kind. I was observing this event from earth and said out loud, as though I knew what I was saying: "This is the Sign." End of Vision.
I had no idea what I had seen until years later when I saw a picture of a solar Coronal Mass Ejection – the picture was identical to the one included in this message. And now fifteen years later, the vision has been resurfacing.
INTERPRETATION:
Following the vision, I learned that there are in fact two different types of solar explosions: Solar Flares and also Coronal Mass Ejections. Solar Flares can reach the earth at the speed of light whereas Coronal Mass Ejections can take anywhere from one day to three days to reach our planet. In 2012, an extraordinarily and unprecedented Solar Flare and Coronal Mass Ejection would have sent the earth into a post apocalyptic stone age had it struck the planet. Compare the earth's miniscule size in comparison to an actual herculean solar eruption.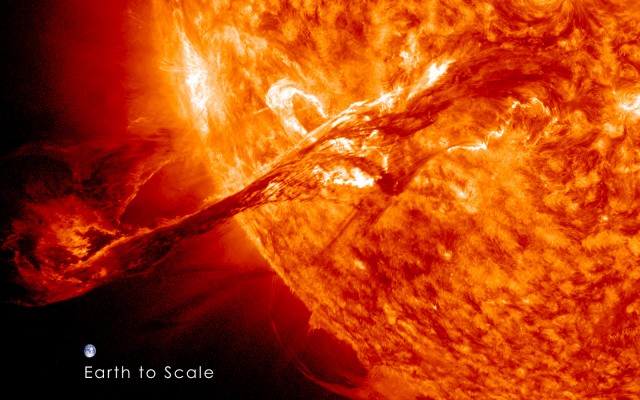 "While you didn't see it, feel it, or even read about it in the newspapers, Earth was almost knocked back to the Stone Age on July 23, 2012. It wasn't some crazed dictator with his finger on the thermonuclear button or a giant asteroid that came close to wiping out civilization as we know it, though — no, what nearly ended us was a massive solar storm. Almost two years ago to the day, our most bounteous and fantastical celestial body — the Sun — kicked out one of the largest solar flares and coronal mass ejections ever recorded. And it missed Earth by a whisker. "If it had hit, we would still be picking up the pieces," says Daniel Baker, who led the research into the massive solar storm." (Source: Extreme Tech)
"And as he sat upon the mount of Olives, the disciples came unto him privately, saying, Tell us, when shall these things be? and what shall be the sign of thy coming, and of the end of the world?" (Mat.24)
"And there shall be signs in the sun, and in the moon, and in the stars; and upon the earth distress of nations, with perplexity; the sea and the waves roaring;  Men's hearts failing them for fear, and for looking after those things which are coming on the earth: for the powers of heaven shall be shaken. And then shall they see the Son of man coming in a cloud with power and great glory.  And when these things begin to come to pass, then look up, and lift up your heads; for your redemption draweth nigh.(Lk.21:25-27)
"But the day of the Lord will come as a thief in the night; in the which the heavens shall pass away with a great noise, and the elements shall melt with fervent heat, the earth also and the works that are therein shall be burned up. Seeing then that all these things shall be dissolved, what manner of persons ought ye to be in all holy conversation and godliness,  Looking for and hasting unto the coming of the day of God, wherein the heavens being on fire shall be dissolved, and the elements shall melt with fervent heat?  Nevertheless we, according to his promise, look for new heavens and a new earth, wherein dwelleth righteousness. " (2 Pet. 3:9-10)
The Holy Bible is not a fictitious book. Scriptures have been written by men of old under inspiration of the Holy Spirit so that we can be instructed by them. Most importantly it contains the story of a sacrificial Savior who came to succour mankind from their entrapment on a planet that is increasingly deteriorating into moral decay and wickedness. Indeed, "As in the days of Sodom" so it is today.
Believers know there exists a great Light (GOD the FATHER) who emanated from HIMSELF another great Light (the Sun of Righteousness). This Light will execute a monumental mission when He appears during the latter days. As the Word teaches and encourages, we know that there will be fire from heaven that will burn and dissolve everything in order to make room for a new heaven and a new earth. It will create a new place of righteousness where faithful Believers will dwell in fulfillment of prophesies.
This post carries a sobering message
"But in keeping with his promise we are looking forward to a new heaven and a new earth, where righteousness dwells." (2 Pet. 3:13)
Keep the Faith,
Suzanne