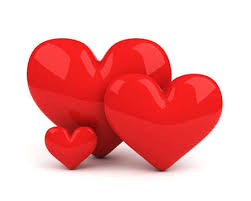 Recently, I had a discussion with someone who revealed having a particular issue with anger. I prayerfully asked the Lord to send a vision to help this one heal from this debilitating emotion. Early this morning the following vision was shown in direct response to my prayerful request. I believe it was shown not only for this individual's benefit but for all who read it. Thank you Lord Jesus Christ. Thank you for the precious gift of the Holy Spirit who shows us all things. Thank you for your beautiful Light. Thank you for loving us so much.
VISION:
In this vision, I was shown people walking on a roadway. Suddenly three hearts appeared and floated in the air among these people. There was a large, medium and smaller heart. They were very beautiful. By that I mean they shone with Light, they were nicely shaped, well defined and bright rich in color. Next, I see a heart transpose itself on the chest of one of the people. This one had a tight feeling – almost like a blocked feeling – in this area. But when the heart transposed itself, the tightness was gradually released.
INTERPRETATION:
The roadway symbolizes each person's destination in life. But it was a journey that lacked love. And this lack of love had created a blockage. By analogy, a blocked heart eventually renders a person lifeless. And yes anger will certainly do that, spiritually speaking. But when the hearts appeared, there was life in the air! There was Light refracted into color and shape! Within the context of this vision, the three hearts symbolize: faith, hope and *Love". It also points to the operation of the most blessed Holy Trinity. And it is this Light and this *Love* that heals all that ails the human heart.
"Love is patient, love is kind. It does not envy, it does not boast, it is not proud. It does not dishonor others, it is not self-seeking, it is not easily angered, it keeps no record of wrongs. Love does not delight in evil but rejoices with the truth. It always protects, always trusts, always hopes, always perseveres……..and now these three remain, hope, faith and love.  But the greatest of these is *Love*. (Symbolized as the big heart) ( 1 Cor.13: 4-13)
Keep the Faith, Suzanne