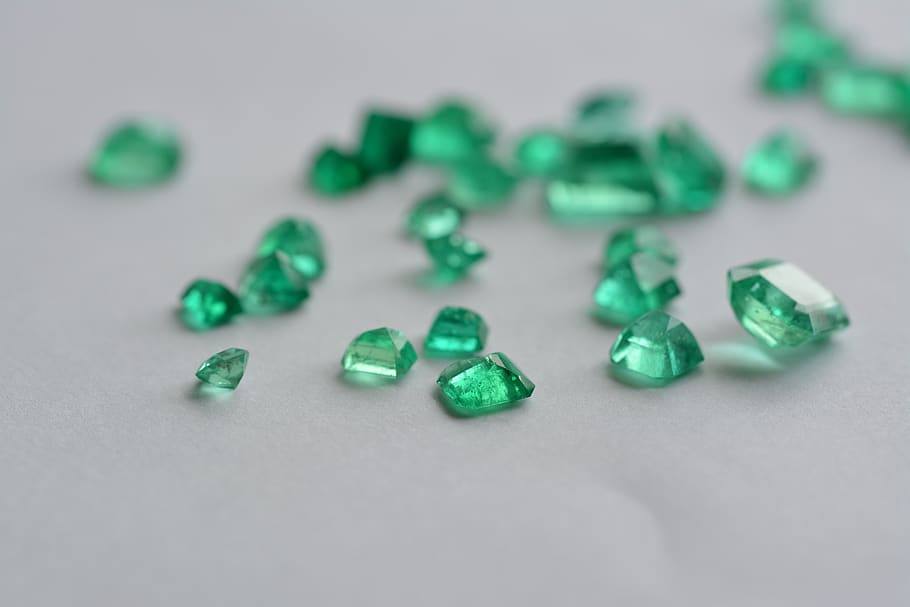 "Then they that feared the LORD spake often one to another: and the LORD hearkened, and heard it, and a book of remembrance was written before him for them that feared the LORD, and that thought upon his name. And they shall be mine, saith the LORD of hosts, in that day when I make up my jewels; and I will spare them, as a man spareth his own son that serveth him. Then shall ye return, and discern between the righteous and the wicked, between him that serveth God and him that serveth him not. (Mal 3: 16:19)
During a recent prayer relating to the gifts of the Spirit (1 Cor. 12:1-7); most specifically as they relate to the gift of prophetic visions and words of knowledge; I was shown a bright and beautiful emerald stone that reflected Light. It was mounted in gold and set on a flat surface.
The High Priest's ceremonial breastplate – adorned with twelve precious stones and engraved with the names of the twelve sons of Israel – was brought to remembrance. Scriptures confirm that the emerald was secured in the first row and in the third position on this priestly garment. According to the Jewish Midrash the stone is associated with Jacob's third son; a priestly tribe specifically chosen to serve GOD in the temple. The Jewish Midrash and Talmud further link the emerald to wisdom, devotion and intelligence.
It dawned on me that the twelve precious stones fastened on the High Priest's breastplate not only represented the Sons of Israel; they also pointed to twelve particular spiritual attributes and gifts. And because the levels of the New Jerusalem will be adorned with living stones, it appears that the inhabitants of the New Jerusalem will operate according to spiritual laws that we have yet to conceive with our finite human minds:
"As you come to Him (Jesus Christ) the living stone, rejected by men but chosen and precious in God's sight, you also like living stones are being built into a spiritual house to be a holy priesthood offering spiritual sacrifices acceptable to GOD through Jesus Christ. For it stands in Scripture: "See, I lay in Zion a stone, a chosen and precious cornerstone (Jesus Christ); and the one who believes in Him will never be put to shame."…(1 Pet. 2:4-6)
"And the building of the wall of it was of jasper: and the city was pure gold, like unto clear glass. And the foundations of the wall of the city were garnished with all manner of precious stones. The first foundation was jasper; the second, sapphire; the third, a chalcedony; the fourth, an emerald; The fifth, sardonyx; the sixth, sardius; the seventh, chrysolyte; the eighth, beryl; the ninth, a topaz; the tenth, a chrysoprasus; the eleventh, a jacinth; the twelfth, an amethyst. And the twelve gates were twelve pearls: every several gate was of one pearl: and the street of the city was pure gold, as it were transparent glass. And I saw no temple therein: for the Lord God Almighty and the Lamb are the temple of it.  (Rev. 21:18-22)
Jesus Christ our High Heavenly Priest (Heb 6, 7, 8, 9) is selecting His precious jewels and preparing His devoted Bride for heavenly citizenship in the New Jerusalem. He is already adorning the redeemed Church with gifts of the Holy Spirit for the express purpose of serving GOD, as did the priests of old in the temple. Yet the anointing and methods of administration are so much greater because of the Lord's finished works! (Jn. 14:12) "Know you not that you are the temple and the Spirit of GOD dwells in you." (1 Cor. 3:16)
"And He has made us to be a kingdom, priests to His God and Father—to Him be the glory and the dominion forever and ever. Amen." (Rev. 1:6)
Prophet Daniel long ago prophesied that knowledge would increase during these latter days! And it is knowledge that can only be revealed through the wisdom and intelligence of the Holy Spirit. Through Him who brings to remembrance ancient mysteries and "things to come". (Jn. 16:13)
Keep the Faith, Suzanne