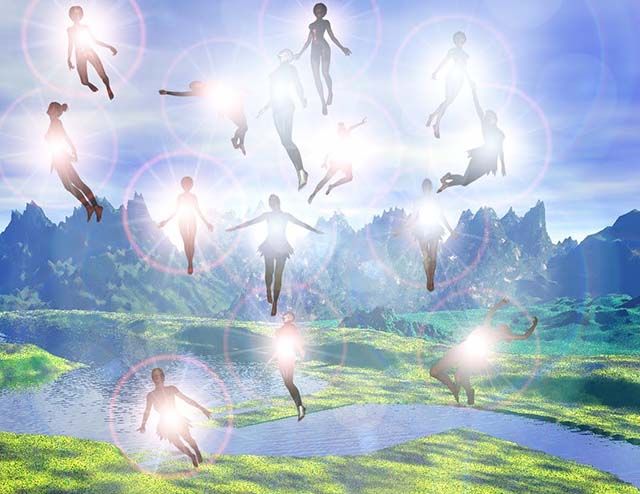 " For the Lord Himself will descend from heaven with a shout, with the voice of an archangel, and with the trumpet of God. And the dead in Christ will rise first. Then we who are alive and remain shall be caught up together with them in the clouds to meet the Lord in the air. And thus we shall always be with the Lord." (1 Thess. 4:16-17)
Believers are exceedingly blessed to have an open communication with GOD through the Holy Spirit. Thank you Jesus for making it all possible!
As noted in the previous post entitled "Saints in Waiting", I had planned on writing a message relating to those who remain after the dead in Christ are raised up. I waited on the Lord for more clarity on the subject – an answer was received last evening during prayer.
A vision of a white clothes hanger was shown on a bed.
A clothes hanger symbolizes an object upon which clothes are hung whereas white represents GOD's righteousness and purity. The message was understood. The time clearly has not yet come for those Believers to be clothed with immortality and with their glorious bodies. That the white hanger was shown resting on a bed is a call for Believers to continue resting patiently in the Lord's finished works and in His Righteousness until this resurrection takes place. A time known only to GOD and a subject well known to Apostle Paul:
"For we know that if our earthly house of this tabernacle were dissolved, we have a building of God, an house not made with hands, eternal in the heavens. For in this we groan, earnestly desiring to be clothed upon with our house which is from heaven: If so be that being clothed we shall not be found naked. For we that are in this tabernacle do groan, being burdened: not for that we would be unclothed, but clothed upon, that mortality might be swallowed up of life. Now he that hath wrought us for the selfsame thing is God, who also hath given unto us the earnest of the Spirit. Therefore we are always confident, knowing that, whilst we are at home in the body, we are absent from the Lord: For we walk by faith, not by sight: We are confident, I say, and willing rather to be absent from the body, and to be present with the Lord. Wherefore we labour, that, whether present or absent, we may be accepted of him. For we must all appear before the judgment seat of Christ; that every one may receive the things done in his body, according to that he hath done, whether it be good or bad. (2 Cor. 5:1-10)
"For I reckon that the sufferings of this present time are not worthy to be compared with the glory which shall be revealed in us. For the earnest expectation of the creature waiteth for the manifestation of the sons of God. For the creature was made subject to vanity, not willingly, but by reason of him who hath subjected the same in hope. Because the creature itself also shall be delivered from the bondage of corruption into the glorious liberty of the children of God. For we know that the whole creation groaneth and travaileth in pain together until now. And not only they, but ourselves also, which have the firstfruits of the Spirit, even we ourselves groan within ourselves, waiting for the adoption, to wit, the redemption of our body. For we are saved by hope: but hope that is seen is not hope: for what a man seeth, why doth he yet hope for? But if we hope for that we see not, then do we with patience wait for it." (Rom. 8:18-25)
Though the timing of this supernatural manifestation is not known, we can rest assured that a great time of preparation is at hand as the Lord and His angels are measuring and fitting His people for their heavenly and glorious garments! I am hearing in the Spirit that sealing is taking place!
"Do not grieve the Holy Spirit of God, by whom you were sealed for the day of redemption. (Eph. 4:30)
Keep the Faith in the Lord's finished Works, Suzanne