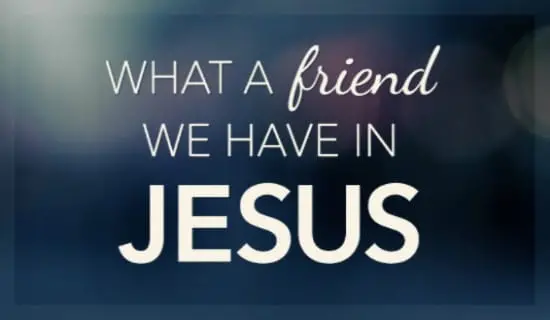 "No longer do I call you servants, for a servant does not know what his master is doing; but I have called you friends, for all things that I heard from My Father I have made known to you." (Jn.15:15)
I was intending on making this message short this morning but I am hearing that it should be "LONGER". It is a topic that the Lord through the Holy Spirit wants to make known and to be understood.
For the past while the word "FRIEND" has been spoken. This Word of Knowledge first began to be spoken when I lived in the state of New York for almost twenty years. It was a time I refer to as my personal Exodus. But because of my lack of scriptural knowledge at that time, I did not fully understand its meaning nor application. Then one day a fuller sentence was Spoken: "FRIENDS OF JESUS DIE FOR HIM". Consider the following verses:
"I have been crucified with Christ. It is no longer I who live, but Christ who lives in me. And the life I now live in the flesh I live by faith in the Son of God, who loved me and gave himself for me." (Gal. 2:20)
"Do you not know that all of us who have been baptized into Christ Jesus were baptized into his death?" (Rom. 6:3)
"So you also must consider yourselves dead to sin and alive to God in Christ Jesus." (Rom. 6:11)
"And he said to all, "If anyone would come after me, let him deny himself and take up his cross daily and follow me." (Lk. 9:23)
"And those who belong to Christ Jesus have crucified the flesh with its passions and desires. " (Gal. 5:24)
"But far be it from me to boast except in the cross of our Lord Jesus Christ, by which the world has been crucified to me, and I to the world." (Gal. 6:14)
"I protest, brothers, by my pride in you, which I have in Christ Jesus our Lord, I die every day!" (1 Cor. 15:31)
"He must increase, but I must decrease." (Jn. 3:30)
The flesh that encapsulates the soul and the spirit can die hard and it can die long when it leaves Egypt (the world). But die it must to finally arrive at the promised land of genuine blessings and restoration. Yet even after having arrived into the promised land following a personal arduous trek in the wilderness, a faithful Believer is still called to exercise caution at the risk of becoming lackadaisical in understanding and falling out of friendship with the Lord. Feeling as though he or she might have gone through the worse of it, they might have built up a certain sense of strength in self.
Consider the great Joshua and the 12 tribes who, after having arrived in the promised land, were on track to drive out all the Canaanite enemies as commanded by the Lord. Yet because Joshua failed to seek the Lord's guidance and approval, this great man of GOD was deceived into making a false covenant with the Gibeonites who were in fact Canaanite neighbors. (Josh. 9:13) It appears that Joshua trusted in his own strength which caused a big setback for him and the chosen people. The life lesson in this story is that we are called to first seek the Lord and His Word for guidance at the risk of making decisions that incur bondage. I am hearing: "trap". Despite his great standing with the Lord, Joshuah was still a man on earth – we now have the risen Lord Jesus Christ leading the way! By remaining in true Covenant with Him, we are His friends. By remaining in a close relationship with Him, we learn to lean on His Strength, His Wisdom and the Word for guidance in all things on a "Daily" basis.
A friendhip is a two way relationship. It follows that the trustworthy Son of GOD will make things known to His friends so they can avoid subtle and crafty entrapments. And if per se we still make wrongful decisions that harbor bondage and entrapments of any kind, the Lord is faithful to redirect the course of a sincere Believer who turns to Him for guidance. The Lord Jesus Christ does not want His people snared and trapped; He wants them free and He wants them blessed as they venture further into the promised land. He also wants to make friends on this journey! And what better Friend to have than Jesus the glorified Son of GOD. With Him we have a best Friend and a faithful Counselor for Life! If you have gotten off track; pick up the cross and prayerfully and trustingly follow Him – He will certainly guide you.
"But watch yourselves, or your hearts will be weighed down by dissipation, drunkenness, and the worries of life—and that day will spring upon you suddenly like a snare. For it will come upon all who dwell on the face of the earth. So keep watch at all times, and pray that you may have the strength to escape all that is about to happen and to stand before the Son of Man."…(Lk. 21:34-36; Eccls. 9:12)
"FRIENDS OF JESUS DIE FOR HIM."
Keep the Faith, Suzanne