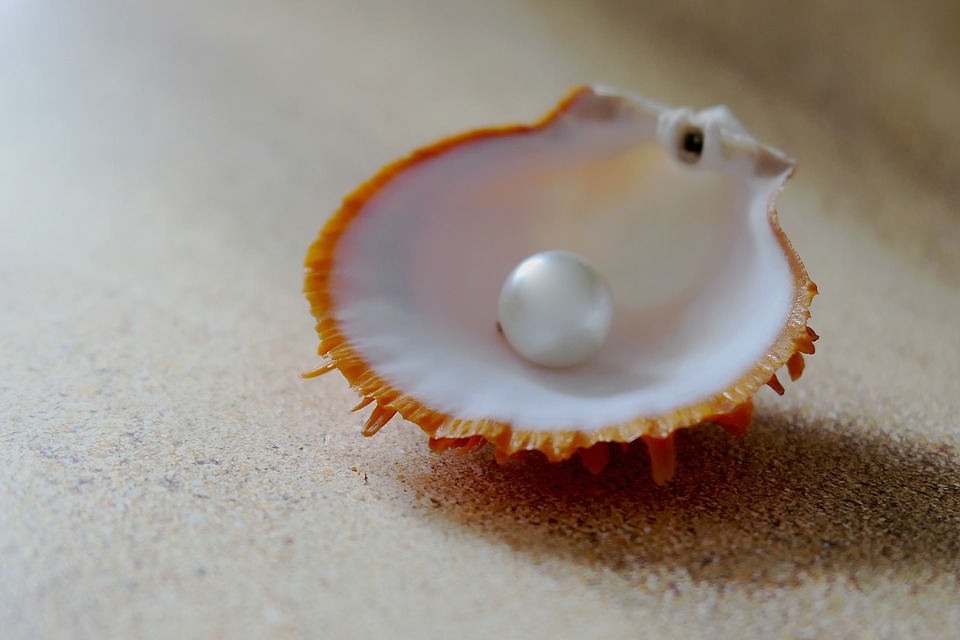 "Then those who feared the Lord spoke to one another, And the Lord listened and heard them. So a book of remembrance was written before Him For those who fear the Lord And who meditate on His name. "They shall be Mine," says the Lord of host "On the day that *I make them My jewels.* And I will spare them As a man spares his own son who serves him." Then you shall again discern Between the righteous and the wicked, Between one who serves God. And one who does not serve Him. (Mal. 3:16-18)
During prayer yesterday something was shown gently falling from above. At first I thought they were raindrops. But then I saw that they were pearls; an abundance of beautiful, white and lustrous pearls. Some were free falling whereas others were falling in long strands. It was raining pearls!
The creation of a pearl in the natural begins to shed light on the kingdom of GOD in the spiritual. A true pearl is produced when an irritant (such as a grain of sand) works its way inside an oyster shell. Stressed by the foreign object, the oyster secretes layers upon layers of Nacre (a crystalline liquid) on the irritant until finally it forms a radiant iridescent pearl.
This shower of pearls is indicative of the latter-day outpouring of the Holy Spirit on Believers.(Joel 2:28) The crystalline fluid, the transformative agent, represents the latter-day rain which is the essence of the Holy Spirit. Like the gradual layering of Nacre on irritants, it is line upon line and precept upon precept that the Word of truth, with the guidance of the heavenly Holy Spirit, is deposited inside accommodating hearts and minds of human shells. It is a process that transforms irritants – the hardships, adversarial attacks and travails of life experiences – into something very valuable. It is the kind of beauty that comes out of the fire and rises out of the ashes. A restorative process that crystallizes the overcoming Bride of Christ with Light, Iridescence and with Splendor. (Spoken Word)
The Lord continues to transform and beautify His Bride with jewels of consolation, of wisdom and of righteousness. It is a short latter-day work that is accelerating for those who will receive it while it is available! Prophet Malachi foretold that a chosen people likened as latter-day jewels will be gifted to discern between the good and the wicked; between those who serve GOD and those who really do not. Watch for them, they will shine! (Dan. 12:3)
It follows that these jewels are likened to pearls of great price fit to dwell in GOD's New Kingdom that is presently spiritual in nature (the gradual experience of eternity in human hearts and minds). It is heavenly and it will be implemented on earth at the time of fulfillment. To be sure, these pearls are only shown as a metaphor of a work that is not man-made and is so great and so precious as to defy human intellect. It is the recompense of New Kingdom seeds sown and harvested in human hearts. A restorative work of a loving and merciful GOD on a people in the stages of being transformed into the glorious image of Her Bridegroom. ( Rom. 9: 25-28; 2 Cor. 3:17-18)
"I will greatly rejoice in the LORD, my soul shall be joyful in my God; for he has clothed me with the garments of salvation, he has covered me with the robe of righteousness, as a bridegroom decks himself with ornaments, and as a bride adorns herself with her jewels." (Is. 61:10).
"Again, the kingdom of heaven is like unto a merchant man, seeking goodly pearls: Who, when he had found one pearl of great price, went and sold all that he had, and bought it." (Mat. 13:45-46)
The Great Merchant, our Lord Jesus Christ, paid the ultimate price for us at the Cross so that redeemed Believers can be gloriously transformed and be fit to populate His New Kingdom. We are indeed living in the last days of the latter days.
Praise be to GOD with infinite gratitude and eternal thanksgiving in the precious name of Jesus Christ ~
Keep the Faith, it's raining white pearls. And look, the fields are white to harvest! (Jn. 4:35)
Suzanne