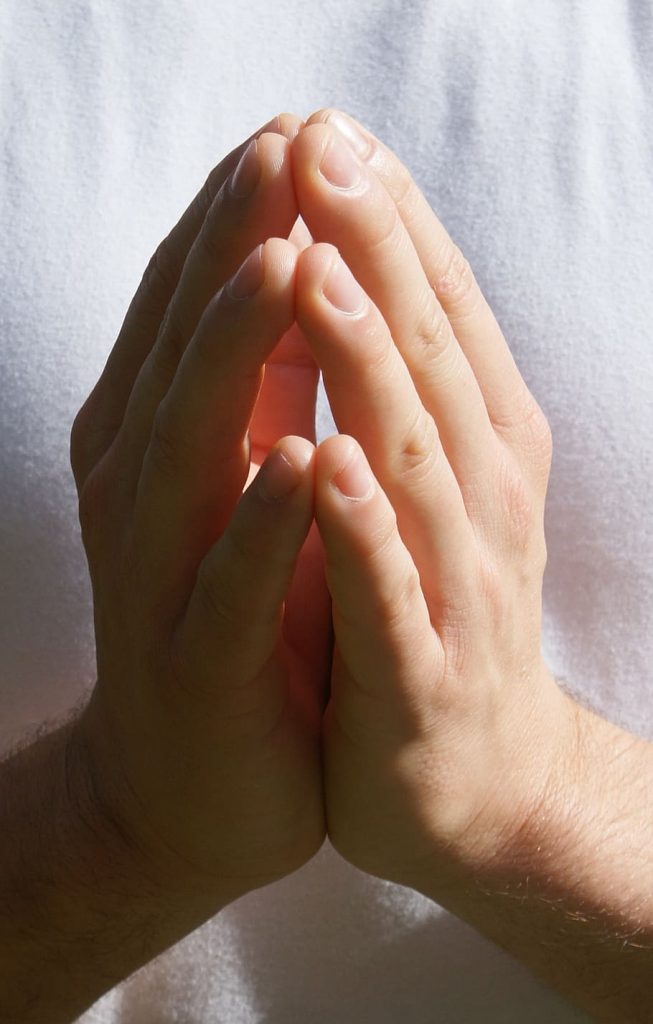 Yesterday while praying, large white hands clasped together in prayer were shown on my right side. In a vision on another occasion while praying in my prayer language, a bottle of remedy was shown.
The importance of prayer cannot be emphasized enough. White, from a biblical perspective, represents the Lord's righteousness, purity and holiness. These visions symbolically convey that when we pray, the Holy Spirit through the Lord at our right side, intercedes with us and for us. It also symbolizes the Lord's role as Intercessor – nothing and one else can fulfill this intercessory position but He who went to the Cross on our behalf. No one else but the Lord Jesus Christ who is the One and only way to GOD the FATHER. (Jn. 14:6)
Related Verses:
"Likewise the Spirit (Holy Spirit made available through the finished works of Jesus Christ) also helpeth our infirmities: for we know not what we should pray for as we ought: but the Spirit itself maketh intercession for us with groanings which cannot be uttered (demonstrates the importance of having the aid of the Holy Spirit). And he that searcheth the hearts knoweth what is the mind of the Spirit, because he maketh intercession for the saints according to the will of God . And we know that all things work together for good to them that love God, to them who are the called according to his purpose…… Who is he that condemneth? It is Christ that died, yea rather, that is risen again, who is even at the right hand of God, who also maketh intercession for us..(Rom. 8:26-29 Cf. Is. 53:12)
We are witnessing critical days of lawlessness– the list too exhaustively long to post here – and prayer is of the utmost importance! But what a beautiful and reassuring confirmation to know that we have the Holy Spirit and the Lord who intercedes on our behalf. I am encouraging the Church to make the changes necessary to accommodate the Holy Spirit. As always – repentance, obeying His non-grievous commandments and living according to His Word is critical in this respect. (Jn. 14:15-21)
[Recently, for different reasons I have been wondering if these visions and Words of Knowledge are still meant to be shared publicly. It caused me to prayerfully ask: "Lord, are these visions meant to be shared or are they meant for me?"  Instantly and before I could even finish the sentence, the following Words of Knowledge were spoken: "For the World.' "And it shall come to pass that before they call I will answer; and while they are yet speaking, I will hear." (Isa. 65:24) It was understood and confirmed that the visions and Words of Knowledge are for the collective profit of all. (1 Cor. 12:7 Cf. Joel 2:28)
The love of many is waxing cold – hearts are hardened and are increasingly hardening, lawlessness is prevailing and the consequences of war is abounding. Prayers are critically needed. They are essential and healing for the one who prays. Likewise, they are essential and healing for the nation/s. The Church is called to pray without ceasing and to never quench the Spirit. (1 Thess. 5:16-22).

Praise be to GOD and thank you Jesus!
Keep the Faith,
Suzanne