If My people who are called by My name will humble themselves, and pray and seek My face, and turn from their wicked ways, then I will hear from heaven, and will forgive their sin and heal their land. (2 Chr. 7:14)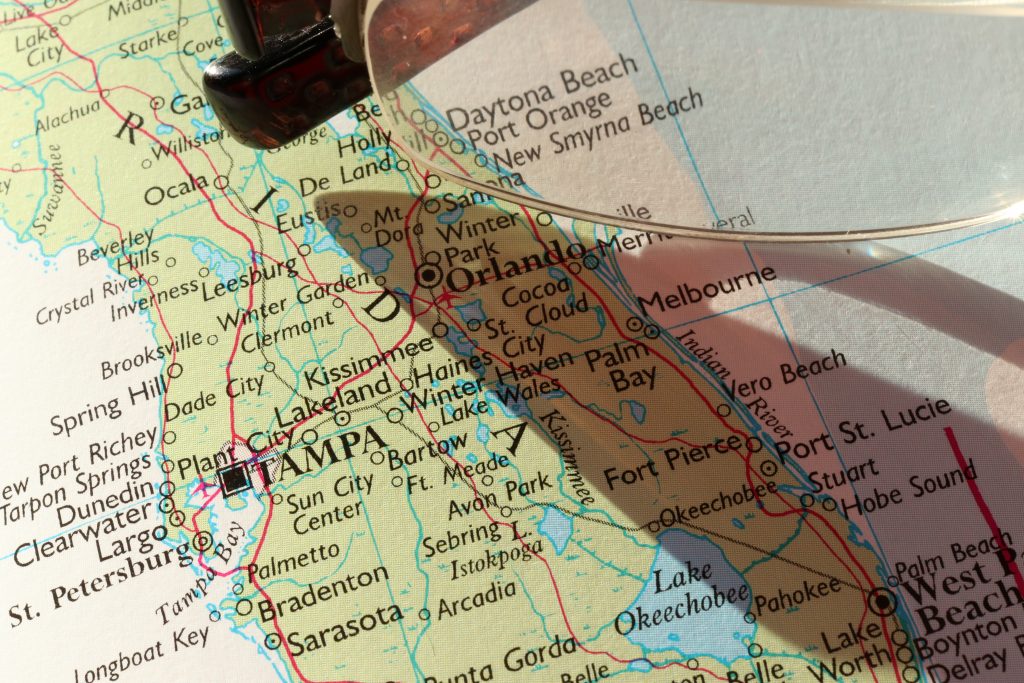 An Unusual Glow
It's been reported that another devastating Hurricane has yet struck Florida. As I read through an article posted on my social media news feed yesterday, images illustrated vehicles trapped in flooding water and houses battered by strong winds. It instantly brought back memories of a vision from years ago. I was living in the state of New York at the time when a Hurricane – I believe it might have been 'Irma' – struck Florida causing 84 fatalities and extensive damage. A couple of days later, Florida was shown like it does on a map but it hovered in the air. It was surrounded with an unusual dim glow that was faintly gold and murky yellow in color. It appeared as though dust or dirt was caught in this glow obscuring the light from shining brightly.
Answers in Scriptures – Deliverance!
By no small coincidence, I was reading into the Book of Romans this morning when I came across the following verses.
Apostle Paul writes:
For we know that the whole Creation (everything created – including the sea and lands) groans and travails in pain (because of Satan's interference and rebellion at the beginning) together until now (pointing to a restoration of a perfected creation). And not only they (creation) but ourselves (Believers) also which have the Firstfruits of the Spirit within ourselves (Holy Spirit made available through Jesus Christ) are waiting for the Adoption the Redemption of our body (glorification and resurrection) (Rom. 8:22-23)
According to Strongs #4959, 'Groaning together' is derived from the word sun or stenazo; it means to moan jointly, i.e. experience a common calamity.
Clearly, there is a common bond between creation and mankind. When Satan deceived Adam, Eve (and mankind), sin also found destructive and painful expression in creation. If this were not true, there would be no need for creation to groan as it awaits mankind's redemption. In the same way that sinful man is cleansed (I am hearing "of filth" ) and restored through the sacrifice and Spirit of the living Christ, so will creation also be redeemed and restored to its original state. A process and work that can only take place when the sons of God come to themselves and into manifestation. If mankind really understood the importance of redemption and how it affects everyone and everything, there would never be greed, hatred, control, manipulation, war and I am hearing "famine". The people and the lands would harmoniously remain peaceful, plentiful and fruitful under GOD'S prescribed order and natural laws.
Apostle Paul clarified:
For the earnest expectation of the creature (creation) waits for the manifestation (Strongs 602 – An unveiling, uncovering, revealing, revelation. From apokalupto; disclosure) of the sons of God (2 Cor. 6:16-18). For the creature was made subject to vanity (creation became subjected to Adam and Eve's deception and sin) not willingly, but by reason of Him Who has subjected the same in Hope (only God can restore.) Because the creature (creation) itself also shall be delivered from the bondage of corruption into the glorious liberty of the Children of GOD (just as mankind will be gloriously liberated, so will creation also be redeemed: the new earth). (Rom. 8:21)
The Son and Sons Will Shine Again!
Briefly noted, I had been shown Florida (creation) in the incremental throes of travailing in birth pain. And because the glow remained dim, it meant that corruption – the filth of sin in mankind – was still a factor that obscured the light from fully manifesting in that state, in that land, in that fabric of creation. And so continues the destructive hurricanes, including disturbing weather patterns and other earthly anomalies.
Creation is waiting – has been waiting – for mankind to hurry up; to get cleansed and glorified so that, it too, can be cleansed and renewed to perfection. The importance of being sanctified by Christ is paramount. And the importance of spreading the gospel of redemption and of the New Kingdom is extremely critical during this late hour and for herculean reasons! Faithful and waiting Believers, I encourage you to take heart and to never, ever, lose hope! It will happen exactly as prophecies unfold. One day we will be glorified in unimaginable ways and we will shine like the Son! And one day the new earth, including the dimmed sunshine state, will glow brightly with the Son's countenance. The Son will shine in the land of the living! Then, all the suffering and pain associated with the birthing of the sons of God and of a redeemed creation will be a thing of the past. You can count on it! Praise GOD and thank you precious Jesus.
Keep the Faith,
Suzanne