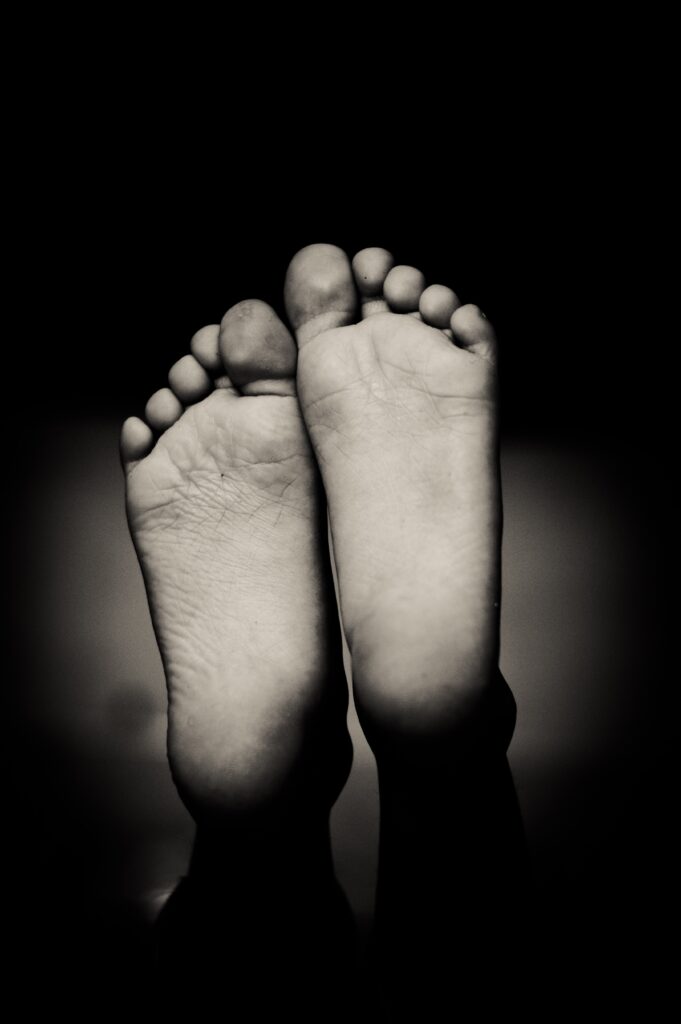 And how shall they preach unless they are sent? As it is written: "How beautiful are the feet of those who preach the gospel of peace, Who bring glad tidings of good things! (Written by the Apostle to the Gentiles in Rom. 10:15)
(Today's message complements, in meaning, the second episode of a video recently-posted to Youtube entitled: "The Life Within Us." )
A Dream and A Vision
In this dream, I knew that I was dreaming and was keenly aware of my surroundings. And yet, it was also understood that a vision was being shown. In it, I saw people dressed in bright gold. They were standing and stretching, as though they had just awakened. Next, I awoke to see a full vision of feet being thoroughly washed with sparkling, clean, clear water and soap. The details in this vision were vivid.
Spirit-Filled Servants – Imitators of Christ
This dream, in combination with the vision, is very telling. The vision within the dream portrayed people who have been awakened by the Light who is Christ. They have been 'unboxed' by Him from whatever held them captives from fulfilling their latter-day missions and roles. And they have received a change of garment! That is to say, they are dressed in the indwelling, golden essence of the Light and Life that lives in them!
Do you not know that you are the temple and that the Spirit of GOD dwells in You. (1 Cor. 6:19)
As for the vision, it instantly reminded me of Jesus washing His disciples' feet just before Passover. In brief, it symbolically points to the washing away of sin, of refreshing and of walking in the Spirit. It also points to the importance of imitating the Lord in service to Him and to others. These are people whose feet are lovingly and humbly washed by the Spirit of GOD the FATHER through HIS majestic Son, the glorified Lord God Himself! These are people who are not only called to be servants but who are chosen by Him to fulfill important roles in His service; if they so remain lowly. Indeed, the lowly are being exalted and the exalted will be brought low!
The Sin-Bearing Servant
Passover commemorates Israel's deliverance from Egyptian bondage. On another level of understanding and by analogy, the dream and vision currently and most importantly point to a Savior sent to deliver Believers from oppressive Egyptian boxes that have contained them for too long. You see, in the washing of the feet, Jesus was fulfilling Isaiah 52's prophecy which instructs that many would receive a change of garment in his service (the bright gold garment.) As far back as 740 years BC, Isaiah had already prophesied that a humble and loving Servant would be 'marred' and crucified for a world held captive by Satanic influence! A Servant who would set captives free by the shedding of His perfect and innocent blood! (So much more could be said about this dream and vision but would be too lengthy to include here. No doubt, a message that will find expression in the next Youtube episode.)
Isaiah 52
Awake, awake! Put on your strength, O Zion; Put on your beautiful garments,
O Jerusalem, the holy city! For the uncircumcised (the old law – Jesus did away with legalism by fulfilling the law on our behalf) and the unclean (the unsaved) shall no longer come to you. Shake yourself from the dust, arise; sit down, O Jerusalem! Loose yourself from the bonds of your neck, O captive daughter of Zion!
For thus says the Lord: "You have sold yourselves for nothing, and you shall be redeemed without money." (The free gift of salvation through Jesus Christ.) For thus says the Lord God: "My people went down at first into Egypt to dwell there; Then the Assyrian oppressed them without cause. Now therefore, what have I here," says the Lord, "That My people are taken away for nothing? Those who rule over them Make them wail," says the Lord, "And My name is blasphemed continually every day. Therefore My people shall know My name; Therefore they shall know in that day That I am He who speaks: 'Behold, it is I.' " (The Lord will not let His chosen people be victimized, He will take action, He will take them out of oppression.)
How beautiful upon the mountains are the feet of him who brings good news,
Who proclaims peace, who brings glad tidings of good things, Who proclaims salvation, Who says to Zion, "Your God reigns!" (Cf. Rom. 10:15) (This is not the peace of the world as we know it, it is GOD'S peace that surpasses all understanding.) Your watchmen shall lift up their voices, With their voices they shall sing together; For they shall see eye to eye when the Lord brings back Zion. Break forth into joy, sing together, You waste places of Jerusalem! For the Lord has comforted His people, He has redeemed Jerusalem. The Lord has made bare His holy arm In the eyes of all the nations (His power, might and authority) and all the ends of the earth shall see the salvation of our God.
Depart! Depart! Go out from there, Touch no unclean thing; Go out from the midst of her, Be clean, You who bear the vessels of the Lord.  For you shall not go out with haste nor go by flight; for the Lord will go before you, and the God of Israel will be your rear guard. (The Lord will not only lead them, He will protect them from behind.)
Behold, My Servant shall deal prudently (the Lord as the sin-bearing Servant). He shall be exalted and extolled and be very high (the Lord of glory, Jesus Christ, has been given authority over heaven and earth). Just as many were astonished at you, So His visage was marred more than any man, And His form more than the sons of men (the physical appearance of the Lord's face and body during His Crucifixion…… praise the Lord, thank you for the gift of salvation, the gift of the Holy Spirit, the gift of You Jesus.) So shall He sprinkle many nations (By the washing of His Blood; the Holy Spirit and also His Word) Kings shall shut their mouths at Him; for what had not been told them they shall see, and what they had not heard they shall consider.
My goodness! These verses are received like a rush of wind! I pray that it blesses you today. And that it will help the captives recognize the Lord and be set free by Him! Praises be to GOD and THANK YOU to infinitum glorified, majestic and awesome Son, Lord, God, Jesus Christ. Amen.
Recommended Reading: John chapter 13 – The Washing Of The Feet.
Keep the Faith,
Suzanne