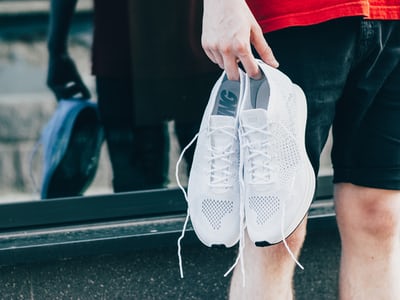 In a vision this morning, I was shown white shoes on a white shoe rack in a closet. They were a man's shoe. Upon closer examination, a little dirt and small scuff marks could be seen.
The reason I am moved to share this vision is because it points to the very important doctrine and manifestation of justification and sanctification. In brief, when we contritely accept Jesus Christ as Lord and Saviour, we are instantly justified. That is to say, justification is GOD's righteous and graceful act of removing the condemnation and penalty of sin through faith in Christ's atoning sacrifice. And although sanctification is also instantaneous, it is a continuous process by which the Holy Ghost gradually changes the Believer into the image of Christ.
All of us as Believers are positioned at different levels of progressive sanctification. It is important to keep this in mind as there ought to never be judgment in this regard – sanctification is a personal and unique work the Lord is doing in each and everyone of us. And so the vision is not one of condemnation but rather one of encouragement.
INTERPRETATION:
White symbolizes purity and holiness and is biblically synonymous with righteousness. In this vision, the white scuffed shoes symbolize a Believer's walk. A walk that has taken him to places where experiences have left their marks. And one that has consequently caused him to shelve his shoes. The walk has stopped. Life can become so arduous and the world so alluring sometimes that even a Believer can become tempted or discouraged. Evenstill, you matter so much to the Lord that you are called to come out of the proverbial closet, square your shoulders and get your shoe back on so that the precious Holy Spirit can continue to do His awesome work of sanctification. You will be immensely blessed, your light will shine bright and you will be a blessing to others!
This vision fits in meaning with another vision from years ago. A horizontal grid with square blocks ranging in color from a deep black on the far left, to a gradual gray in the middle, to a gradual bright white on the far right, was shown. At that time, the Holy Spirit was showing me where I fit on this palette. It was an "ouch" moment and one to be taken very seriously. The Holy Spirit had more work to do in this Believer. Yes, no one is perfect, we are all into this thing together and we must persevere in the Faith!

We are living in very prophetic days when we are called to live righteously through Christ. The Lord revealed to Prophet Daniel that many would be made "white" in the latter days; it certainly points to where we are approximately situated on GOD's timetable. And with that I am often reminded that we ought not to put off until tomorrow what needs doing today and that to protract a great design is to put it in jeopardy.
Related Verses:
"Although I (Prophet Daniel) heard, but I did not understand. Then I said, "My lord, what shall be the end of these things?" And he said, "Go your way, Daniel, for the words are closed up and sealed till the time of the end, Many shall be purified, made white, and refined, but the wicked shall do wickedly; and none of the wicked shall understand, but the wise shall understand. "(Dan.12:8-10)
"Therefore, as through one man's (Adam's) offense judgment came to all men, resulting in condemnation, even so through one Man's (Jesus') righteous act the free gift came to all men, resulting in justification of life. For as by one man's disobedience many were made sinners, so also by one Man's obedience many will be made righteous. " (Rom.5:17-19)
"For if the blood of bulls and goats and the ashes of a heifer, sprinkling the unclean, sanctifies for the purifying of the flesh, how much more shall the blood of Christ, who through the eternal Spirit offered Himself without spot to God, cleanse your conscience from dead works to serve the living God? for this reason He is the Mediator of the new covenant, by means of death, for the redemption of the transgressions under the first covenant, that those who are called may receive the promise of the eternal inheritance." (Heb. 9:13-15)
Keep the Faith,
Suzanne