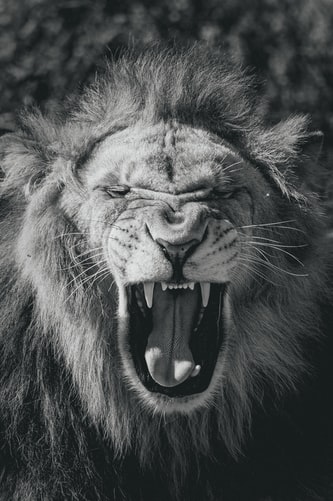 In a vision a couple of days ago I saw a lion sprawled helplessly on its back in between two houses. It had submitted; it had been defeated. Then I saw a sign of victory shining in bright Light. The Word "LIBERATION" was spoken,
INTERPRETATION:
This lion is biblically symbolic of the devil. One who creates strife, darkness and divisions between two houses. That is to say between neighbors, between believers, between unbelievers, between nations:
"As a roaring lion, and a ranging bear; so is a wicked ruler over the poor (helpless) people." (Prov.28:15)
A lion is often labelled to be the king of its kingdom. In strength it reigns supreme over other animals. It follows that it takes another powerful lion to defeat it. In accordance with this vision, the empowered Lion is the Lord Jesus Christ, the King of all Kings. The one who is the Root of David, who descended from the tribe of Judah, who defeated the devil at the Cross, who reigns supreme among all lions and who is identified in the Book of Revelation as the "Lion of the Tribe of Judah".
I believe this vision is symbolic of the times of the Gentiles, shown in the vision as two houses. The time identified by Apostle Paul as the grafting of the gentile nations and the Jewish nation. A time when the Spirit of the Lord will touch unbelieving hearts worldwide. It will begin to melt and stir the hardened hearts of those who allow unrighteousness to create division, strife and dissension in their lives on many levels. It will continue to cross racial barriers to awaken, touch, comfort and govern a helpless people ruled by tyrant leaders. There will be greater understanding in recognition of a greater love. They will hear (feel) the roar of this heavenly king from within themselves and respond. Praise the Lord! I am hearing: "prophetic."
Wherever in the world you are, if you feel the call of the Lord in your life, even the minutest of a sensing in your spirit, do not overlook it! It is an inner work – a work of the heart – that is manifesting worldwide in preparation for a righteous people in accomplishment of GOD's great masterplan. A people who will be: liberated from darkness, sealed by the Holy Spirit, prepared and ready before the period of great tribulation! A people marked as citizens of a New Kingdom!
"Little children, let no one deceive you. He who practices righteousness is righteous, just as He is righteous. He who sins is of the devil, for the devil has sinned from the beginning. For this purpose the Son of God was manifested, that He might destroy the works of the devil. Whoever has been born of God does not sin, for His seed remains in him; and he cannot sin, because he has been born of God. In this the children of God and the children of the devil are manifest: Whoever does not practice righteousness is not of God, nor is he who does not love his brother. For this is the message that you heard from the beginning, that we should love one another, not as Cain who was of the wicked one and murdered his brother. And why did he murder him? Because his works were evil and his brother's righteous. (1 jn.3:712)
"And one of the elders saith unto me, Weep not: behold, the Lion of the tribe of Judah, the Root of David, hath prevailed to open the book, and to loose the seven seals thereof. "(Rev. 5:5)
Introducing your new King:
Keep the faith,
Suzanne