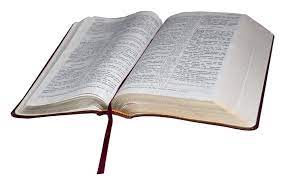 In a vision a few days ago I was shown my kitchen table. It was covered with a table cloth or linen that had been lifted. Every inch was covered with healthy and fresh food of all types. The Words "In Abundance" were spoken.
INTERPRETATION:
That morning while sitting at my table, the following verses were instantly brought to remembrance:
"Yea, though I walk through the valley of the shadow of death, I will fear no evil: for thou art with me; thy rod and thy staff they comfort me. Thou preparest a table before me in the presence of mine enemies: thou anointest my head with oil; my cup runneth over. Surely goodness and mercy shall follow me all the days of my life: and I will dwell in the house of the Lord for ever. " (Ps. 23:4-6)
While pondering these verses this morning, I suddenly and pleasantly noticed that my table was, in real life, surrounded with at least 5 NKJV and KJV Bibles, including commentaries and study guides. It brought a smile to my face because the most precious Holy Spirit always works in such wondrous ways!
The provisions on the table symbolized biblical truths and tenets. And the Holy Spirit had shown me that it was the Lord who had set the table. The table was symbolic of the human heart whereas the abundant provisions symbolized His Word. In keeping with the above verses, it follows that when we ingest the Word – study and apply it – we are strengthened, emboldened and made more knowledgeable in discerning the ruses and attacks of the enemy. Most importantly, we recognize that we have a Shepherd whose rod and staff comfortingly guide His Lambs in the right direction during times of darkness and who will protect them from the enemy. And these are certainly times of darkness pending the return of the Lord to stake His claim on this fallen planet. To be a Lamb in the flock means that darkness has no jurisdiction and authority in your life. The enemy has no jurisdiction and authority over the faithful Believer who abides in the finished works of Christ. And over the faithful Believer who partakes of His abundantly amazing, life giving Word. Most importantly, no authority and no power over the Son! (Spoken Word) But, we must believe! And we must have faith!
Be encouraged today! Take out your holy bibles and ingest the nourishing truths and revelations which only the Lord can activate in you through the works of the Holy Spirit. Believe that He will set the table!
"Blotting out the handwriting of ordinances that was against us, which was contrary to us, and took it out of the way, nailing it to his cross; And having spoiled principalities and powers, he made a show of them openly (an open spectable) triumphing over them in it." (Col. 2:14)
"Now I saw heaven opened, and behold, a white horse. And He who sat on him was called Faithful and True, and in righteousness He judges and makes war. His eyes were like a flame of fire, and on His head were many crowns. He had a name written that no one knew except Himself. He was clothed with a robe dipped in blood, and His name is called The Word of God." (Rev. 19:11-13)
I am hearing "Instructed".
Praise the Lord, and thank you Jesus!
Keep the Faith, Suzanne