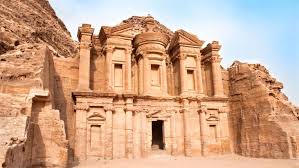 Then let those who are in Judea flee to the mountains….(Mat. 24:16-20)
In this dream – from @ the year 2000 – I was standing in a rocky room or stone chamber higher up somewhere. There was a knowing that there were many other chambers like this. Rooms or chambers that had been carved in what appeared to be a rock of a pinkish beige color. I looked out in the distance and saw a long winding dusty road. On this road an army of soldiers dressed in Roman regalia were walking in unison, shoulder to shoulder and in rows. They appeared to be heading in our direction. End of dream.
INTERPRETATION:
The soldiers represented the army of the Roman Empire. It was an empire historically known for its persecution of Christians. In 64 AD, a colossal fire broke out in Rome and destroyed much of the city. There were rumours that it was the deranged Emperor Nero Himself who caused the fire. Some historians believe that in an attempt to deflect blame, he horrifically tortured and killed the scapegoats: the Christians. During the third century, the turn-over of emperors was rapid and countless more met with horrific deaths. The crimson stains of Christian blood stained the sands of gladiator arenas much to the delight of roman emperors and their spectators. Apart from them, Christians were also targeted in the crosshairs of religious authorities. And apart from them, Christians were furthermore targeted in the crosshairs of Pagans because of their refusal to bow down to Rome's paganistic pantheon Gods. History bears facts that Christians were targeted on many levels. Could it be that Christians will once again be in the Crosshairs of another empire and unbelieving people who have an inherent hatred for Believers? The Bible tells us yes.
" You will be hated by everyone because of me (Jesus), but the one who stands firm to the end will be saved." (Mat. 10:22)
Following the dream, I scanned the internet and discovered pictures that remarkably resembled what I had seen in the dream. The place was an ancient city called Petra. It is believed by some that Petra will be a place of refuge for a remnant in Israel when the Antichrist will order the worldwide genocide of Jews, lasting for the last 3½ years of the tribulation period. I searched for the name meaning of Petra and discovered that it is a feminine appellative of the name Peter whose name in Greek means "stone" or "rock". The meaning of the dream was understood.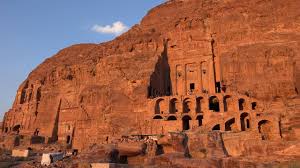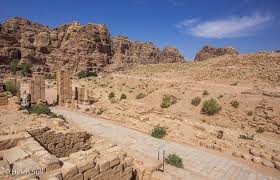 In brief, the dream conveyed that another empire would arise and that Christians would seek refuge from persecution. That would explain the reason for the army marching in our direction. But for the faithful there is a place of refuge known as the great biblical Rock of all ages: Jesus Christ. (1 Cor.10:4) And because He is the Head of the true Church (Col. 1:18); it follows that there has to be a body (Eph. 1:23) A body that is biblically defined to, indeed, be feminine in nature: Petra is the Bride of Christ, the chaste Virgin, the persecuted and protected Woman in the wilderness for 3 1/2 years, (Rev.12:14) the spotless Church Body. I am hearing "beautiful".
"Ye also, as lively stones, are built up a spiritual house, an holy priesthood, to offer up spiritual sacrifices, acceptable to God by Jesus Christ. Wherefore also it is contained in the scripture, Behold, I lay in Zion a chief corner stone (Jesus Christ) elect, precious: and he that believeth on him shall not be confounded." (1 Pet. 2:5-9)
"For I am jealous over you with godly jealousy: for I have espoused you to one husband, that I may present you as a chaste virgin to Christ." (2 Cor. 11:1)
I am not posting this message with the intent of causing rebellion against governmental authorities (Rom. 13:1, 1 Pet. 2:13). But Jesus clearly taught that we ought to render the things that belong to Caesar to Caesar and the things that belong to God to God. As Christians we are not to bow down to laws that are in direct contradiction and violation of GOD's truth and His perfect law which HE codified in Love through His Son Jesus Christ. This message, instead, is posted to encourage Believers – and unbelievers – to earnestly turn to and abide in the Rock of salvation while time still gracefully affords us the opportunity. The sacrosanct call to repentance is not a popular call; and is even denied by some in the fivefold ministry; at times vehemently! But the reality is that the call for repentence and to live the progressively sanctified life is as critical today as it was two thousand years ago. But you need not take my word for it, take the Word for it. I believe Elijah, John the Baptist, the Apostles and most of all, Jesus, would all agree.
A critical hour of preparation is upon us. And to be effectively hidden in Christ the Rock in coming days calls us all to be faithful believers and to be that chaste Bride.
"If we say that we have no sin, we deceive ourselves, and the truth is not in us.  If we confess our sins, he is faithful and just to forgive us our sins, and to cleanse us from all unrighteousness If we say that we have not sinned, we make him a liar, and his word is not in us." (1Jn.1 1-10)
"From that time Jesus began to preach, and to say, Repent: for the kingdom of heaven is at hand." (Mat. 4:17)
Keep the Faith,
Suzanne