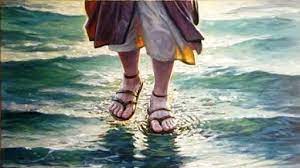 "And Peter answered Him and said, "Lord, if it is You, command me to come to You on the water." So He said, "Come." And when Peter had come down out of the boat, he walked on the water to go to Jesus.  But when he saw that the wind was boisterous, he was afraid; and beginning to sink he cried out, saying, "Lord, save me!" And immediately Jesus stretched out His hand and caught him, and said to him, "O you of little faith, why did you doubt?"  And when they got into the boat, the wind ceased." (Mat. 14:28-31)
DREAM:
Suddenly, during a deep sleep, I found myself standing somewhere and beside something made of wood which was recognized to be part of a boat. It was dark and stormy outside and I was surrounded by water which was churning with the waves. My attention was brought to my feet and that is when I saw that I was barefoot and standing on water! Surprised and totally amazed, I lingered there for what must have been a few minutes with water swishing and splashing around my feet. This dream felt so, so real. As I proceeded to walk; something very hard was felt underneath my feet. And that is when I saw that I was also walking on solid rock. I was walking on a massive bed of rock that was just a couple of inches beneath the surface of the water. End of Dream
INTERPRETATION:
This dream from more than twenty years ago occurred during a difficult period of time in my life. And though this is a big world and we are all interspersed at its four corners, the Holy Spirit is reminding me that this dream does not belong only for my encouragement and benefit but also for anyone else who is experiencing difficulties of any kind.
Whatever your situation or condition, you are called to exercise faith and go beyond the troubling waters of affliction by securing your feet – your faith, your walk and direction in life – on that solid Rock which is Christ Jesus. (1 Cor. 10:4) Whatever you are feeling: depression, loneliness, fear and worry, (I am hearing anxiety), you are called to stand and walk on the Rock! If you are experiencing a breakdown in your marriage and family, walk on the Rock! If you are having difficulty finding work or work is causing you grief and stress, walk on the Rock! If you are sick and with pain and feeling hopelessly defeated, walk on the Rock! If you are bound to drugs and alcohol, you are called to walk on the Rock! Whatever your condition and situation, you are called to walk on the Rock! Cast your cares on Him, He's got this! (Mat. 11:28-30)
When Jesus called Peter to walk on water, He was also attempting to test him, to equip him and temper him with courage and faith to confront the hardships that he would endure as a faithful Apostle. But this dream also conveys that whenever we confront the storms of life, Jesus Christ the Rock is already supporting us. But we must have faith and belief! If you feel you have sunken in these waters and feel unable to get out, do not doubt, extend your hand and He will pull you out!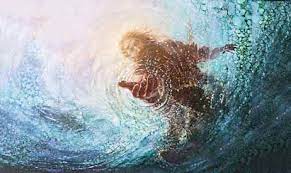 Go beyond the pain, go beyond the impossible with faith and belief! How extremely blessed we are to have One who made this all possible for us! Thank you GOD our FATHER, thank you Lord God Jesus Christ.
Be of strong courage and keep the faith,
Suzanne