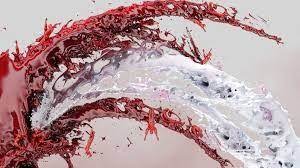 A vision was already posted this morning but I felt the following vision was too important not to share with the Church today.
In a vision early this morning I was shown blood that was swishing with water on the ground. Then more water streamed from above and fell into this mixture. All three began to intermingle.
"There are three that bear witness on earth, the Spirit, and the water, and the blood: and these three agree in one." (1 John 5:8)
This is a strong and beautiful testimony of GOD's New Covenant: the sacrificial act of redemption! It was blood and water that poured from HIS Son's veins and trickled down from the cross and onto the ground for a fallen humanity. It was Jesus' precious and holy blood that paid for the ultimate Adamic Debt. (I am hearing 'Deception'. Indeed it was satanic deception that took place in the garden at the very beginning. And it was because of this deception that Jesus came to the earth – to destroy the works of the devil! 1 Jn.3:8 ) The water that flowed from His veins was the divine essence of GOD's Holy Spirit.
This vision testifies as a witness that we are living in the days of GOD's outpouring of the Holy Spirit. It had been long ago prophesied by Prophet Joel. (Joel 2:28). Despite what might be happening in your life now, you must believe with all your heart and mind in GOD's plan of redemption through His Son.  And you must answer the call with desire and genuine and complete repentance.  And to acknowledge and believe that you are justified and sanctified. And that you will continue to be progressively sanctified by the Holy Spirit and the washing of His Word until the day we are gloriously called home.  
These are the three witnesses who bear together in agreement. There cannot be one without the other! The first two were Jesus' blood and water on earth – the Holy Crucifixion of redemption. And the third is the Holy Spirit in heaven who is now abundantly pouring GOD's water on the ground below. It is pouring water because of Jesus' blood! It is pouring water into and from within those on earth who faithfully believe in Jesus Christ's finished works.
I am hearing the Word 'Mandatory'. By definition this means something that is required by law or rules; something that is compulsory. This is to mean that the Adamic Debt was legally paid in full through the Lord Jesus Christ's blood sacrifice. And, according to the terms of the New Covenant, the Holy Spirit cannot be received any other way.
Be liberated from the bondage of sin! From bondages and burdens. Receive the revivifying and renewing water of Life and Light from heaven!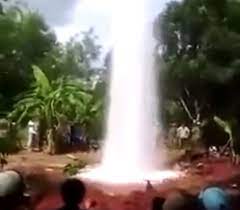 "He that believeth on me, as the scripture hath said, out of his belly shall flow rivers of living water." (Jn. 7:38)
The New Covenant – Word of Knowledge
The New Covenant – Updated
Keep the Faith,
Suzanne