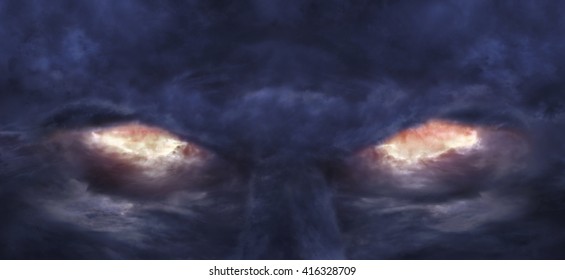 Today's message deals with a topic that discomforts many Believers. I have been wondering for the past couple of months whether or not this subject should be broached at the risk of giving it more life than that which has the power to overcome it. But because so many downplay this reality or do not believe that Satan even exists, I am moved to share some experiences in this blog to confirm otherwise. And to also increase awareness that to effectively battle and overcome this being of darkness, one must first recognize that it exists.
Vision
Many years ago, I was standing somewhere in a vision when suddenly I recognized and felt that something very evil was approaching.  It was the most intense darkness and most evil presence I had ever experienced. When describing this vision, I often say that it was similar to a gathering of all the vile evildoers of the world into one concentrated space.  To say that it was intense is to put it mildly.  Within a couple of seconds of this thing approaching, a powerful voice from deep within my chest automatically rose up to my mouth and I shouted: "Are you from GOD?!"  No sooner were these words spoken, that this evil darkness was instantly sucked out of the room, comparatively speaking, by what felt like a universal vacuum. 
Interpretation
This vision and experience testify that there really exists such a being as a biblical devil, also known as Satan, the serpent and the dragon. That he operates through fallen angels and principalities right on down to people on earth. (Eph. 6:12) And that his power has and continues to be increasingly magnified by the number of evildoers who succumb to him. He is, indeed, also known as Legion. The reason I shouted the question was a request for identification, as was the case with Jesus when He dealt with an unclean spirit. Albeit, at the time I had no idea why I asked the question.
"For He (Jesus) said to him 'Come out of the man, unclean spirit!' Then He asked him, 'What is thy name?' And he answered, saying, 'My name is Legion: for we are many,'" (Mark 5:8-9)
The serpent's modus operandi is to overcome multitudes of souls in order to magnify his power and establish his kingdom on earth.  Dear Believer, the key to your battle today, on any level, is through Jesus Christ's New Blood Covenant.  It is the only way that the most Holy Trinity can indwell your mind and heart in order to discern the evil among us and to recognize and fight the adversary.
Get Your Armour On!
Because evil will intensify in the world, the Lord is repeatedly calling His Church to repentance and to decide which side it will stand on. He wants to protect His faithful Believers and the only legal means to do so is through Jesus Christ's New Covenant. It is the only way that we can effectively don the armour of GOD, wield HIS Sword with HIS authority and stand boldly to battle effectively and with victory.
"Put on the whole armour of God, that ye may be able to stand against the wiles of the devil. For we wrestle not against flesh and blood, but against principalities, against powers, against the rulers of the darkness of this world, against spiritual wickedness in high places. Wherefore take unto you the whole armour of God, that ye may be able to withstand in the evil day, and having done all, to stand. Stand therefore, having your loins girt about with truth, and having on the breastplate of righteousness; And your feet shod with the preparation of the gospel of peace; Above all, taking the shield of faith, wherewith ye shall be able to quench all the fiery darts of the wicked. And take the helmet of salvation, and the sword of the Spirit, which is the word of God: Praying always with all prayer and supplication in the Spirit, and watching thereunto with all perseverance and supplication for all saints; And for me, that utterance may be given unto me, that I may open my mouth boldly, to make known the mystery of the gospel, for which I am an ambassador in bonds: that therein I may speak boldly, as I ought to speak." (Eph. 6:11-12)
"Submit yourselves therefore to God. Resist the devil, and he will flee from you." (James 4:7)
Keep the Faith,
Suzanne