Today our beloved and loving FATHER, through the Holy Spirit, is speaking the following Words of comfort to His Church: "Trust Me."
Whatever challenge, situation or condition you might be facing, the FATHER is telling HIS Church to rely and to lean on HIM. HE is bigger than all of what we might confront. HE's got this!
GOD is faithful and true. And HIS Word never returns void.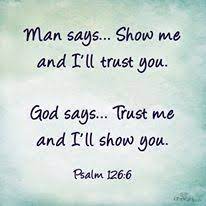 Keep the Faith, Suzanne