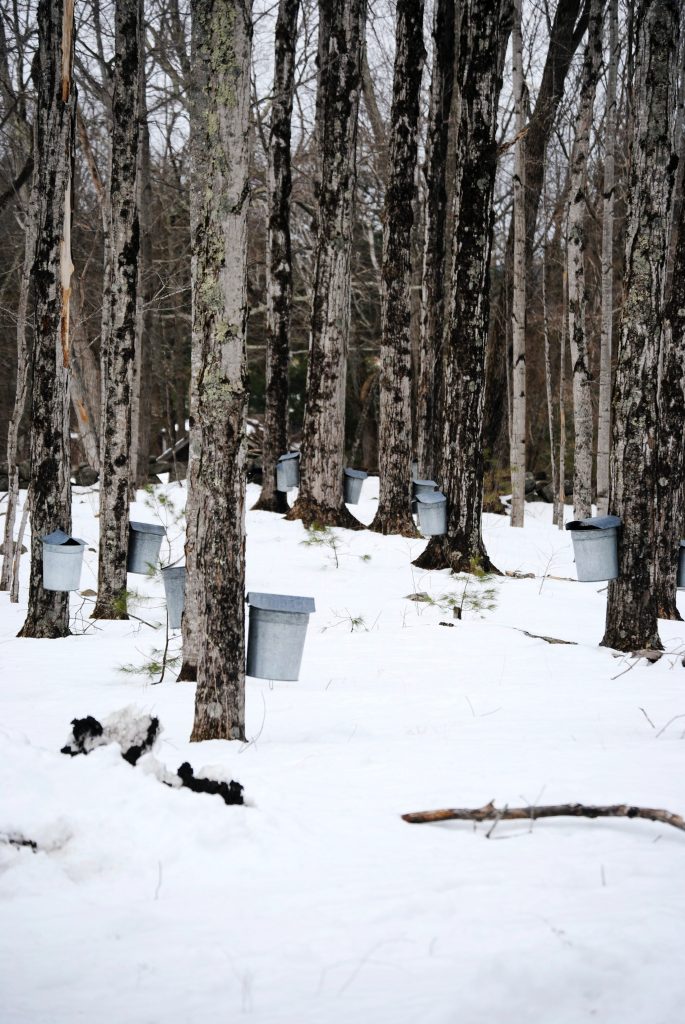 In a vision today a tree was shown. Secured to its trunk was a pail obviously put in place to collect the tree's sap. And that is how the vision ended.
The Maple Tree – Facts
Without doubt this was a Maple Tree that was being tapped for its sap which is used to make sweet-tasting maple syrup. I discovered this morning that a Maple Tree must be at least 10 inches in diameter and in good health before it can be 'tapped'. And it usually takes about 40 years before the tree can reach these requirements. In its raw state, sap is approximately composed of 98% water and 2% sugar which is produced in the leaves through a process called photosynthesis. Both sugar and water are brought to the roots which feed a thriving and healthy tree. Once ready for collection, the process demands that a hole be drilled in the tree about waist height from the ground. The sap then flows through a little spout that is connected to the tree's pipeline system.
A Biblical Explanation – Facts
This vision has a wow factor attached to it. As soon as I read that the tree's hole was drilled at about waist height, the vision was clearly understood. From a biblical perspective, trees are often symbolically compared to Believers. Within the context of the vision, this is an anointed Tree of Righteousness that has matured during a time when the fields are white to harvest. It is synonymous with a Believer who thirsts after the Lord; who drinks from His Spirit and who, in turn, will have the same sweet living waters flow out from his 'belly'. (It is significant that the pail is attached approximately waist high on the tree where the human belly is also located.) And though the belly is part of the human anatomy, a deeper dive into the Word conveys that it is also synonymous with an area from within, that is to say – the heart!
In the last day, that great day of the feast (the 7 day Feast of Tabernacles: Jn. 7:2 and Deut 16:13) Jesus stood and cried, saying, If any man thirst, let him come unto me, and drink. He that believeth on me, as the scripture hath said, out of his belly shall flow rivers of living water. (But this spake he of the Spirit, which they that believe on him should receive: for the Holy Ghost was not yet given; because that Jesus was not yet glorified." (Jn. 7: 37-39)
According to Strong's #2836: The word 'belly' comes from koilos, a cavity, the abdomen: by implication, the matrix, figuratively the heart!
Anointed Works
Jesus cried out these Words during the last day of the Feast of Tabernacles. A major Jewish festival that commemorates the shelter of Israel during their 40 years of wilderness. With these verses in mind, it is not coincidental that the sap of the Trees is prime for collection after 40 years in the wilderness. It symbolically means that those who have faithfully endured the wilderness experience for a lengthy period of time know they have been sheltered by the resurrected Christ. They have become imitators of Him because He dwells in them and they share the same Holy Spirit. Like Him, they pick up their crosses and follow Him. Their fleshy ways have been pierced by the living Word of Truth and GOD'S Holy Spirit. And because they are anointed, what lives in them will be poured out in His service and in awesome ways during these latter days. Praise GOD that all this was made possible because Jesus was first and foremost poured out on a particular cursed tree on our behalf and then glorified!
Verily, verily, I say unto you, He that believeth on me, the works that I do shall he do also; and greater works than these shall he do; because I go unto my Father. (Jn. 14:12)
O taste and see that the LORD is good: blessed is the man that trusteth in him. (Ps. 34:8)
Keep the Faith. Here comes the upright, the Lord's anointed.
Suzanne