Have you with Him spread out the sky which is strong and as a molten looking glass (mirror)?  (Job. 37:18)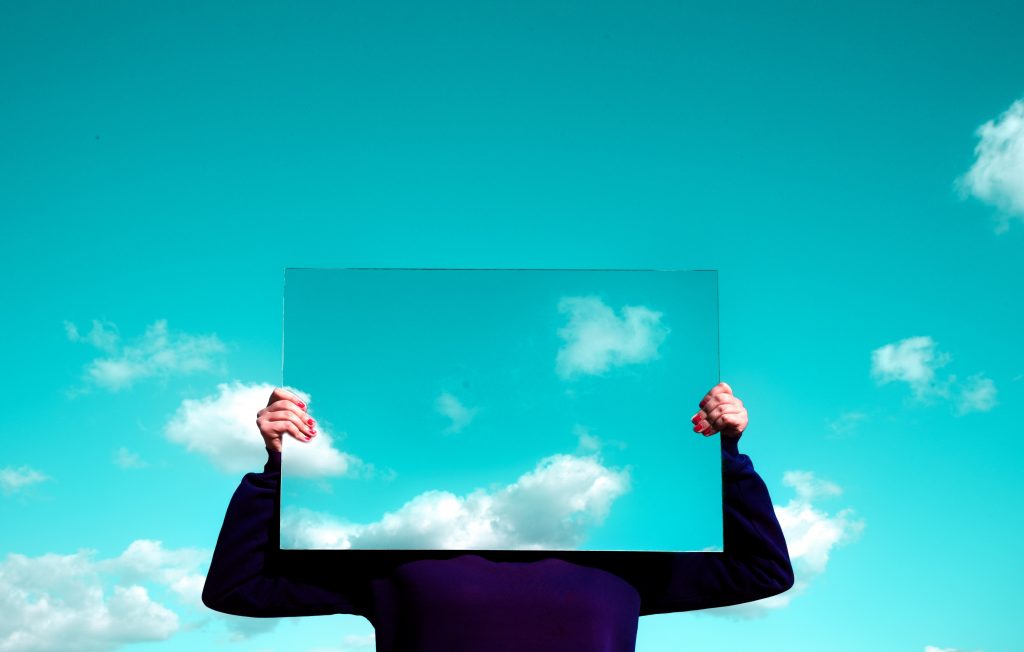 A Heavenly Mirror
One evening last week while listening to someone preach and pray, a vision suddenly manifested. An elegant-looking woman standing up holding a mirror in her right hand was shown. She had lifted the mirror up to the sky with her face extending upwards so she could intently and closely examine herself.
Transformative Reflection
After the vision, I was instantly reminded of the following verse:
But we all, with open face (Strong's #343: unveil, uncover. From ana and kalupto; to unveil.) beholding as in a glass (mirror) the glory of the Lord, are changed into the same image from glory to glory, even as by the Spirit of the Lord. (1 Cor. 3:18)
What a beautiful vision! The elegant-looking woman represents the redeemed in the Body of Christ who have become bare-faced; who are not veiled in unbelief, the restriction of old laws, non-redeeming religious rituals, pagan beliefs or practices. (2 Cor. 3:13) All of which prevent the newness of a glorious redeemed humanity from manifesting. The mirror – a transformative filter – was meaningfully shown positioned and calibrated towards the sky and the sun; towards heaven and the Light. That is to say, towards GOD and His life-giving Son, Jesus Christ who is sinless perfection! It means that when we abide in Him through the Mirror – the filter of the Holy Spirit who works in combination with the Word – something quite miraculous begins to happen with the human conscience. Human flaws, faults, mistakes and death-causing sins are recognized and are gradually purged. In the process, we become transformed into the nature and image of the Light that we behold. This explains the reason why the spotless, enlivened, fair-looking woman and soon Bride-To-Be appeared so elegant and confident in the vision.
Two-Sided Mirror
There is another important and activating side to the Mirror. Those who are first made righteous by faith in the finished works of Christ will be moved by love to be doers of the Word because they recognize that it does not preclude them, as profitable servants, from Christian responsibilities and works. (Note: Salvation is never based on works – that would be defying Christ's one-time sacrificial offering to the FATHER on our behalf.)
Wherefore lay apart all filthiness and superfluity of naughtiness and receive with meekness the engrafted word which is able to save your souls. But be you doers of the word and not hearers only, deceiving your own selves. For if any be a hearer of the word and not a doer, he is like unto a man beholding his natural face in a glass (natural man often uses other means instead of the Holy Spirit and the Word which cannot foster changes; he is unable to accommodate the inner Light of Transformation).  For he beholds himself and straightway forgets what manner of man he was (backsliding). But whosoever looks into the perfect law of liberty (the Holy Spirit made available only through our glorious Christ's finished works) and continues therein, he being not a forgetful hearer but a doer of the word this man shall be blessed in his deed. (James 2:23-25)
For the law of the spirit of life in Christ Jesus has made me free from the law of sin and death. (Rom. 8:2)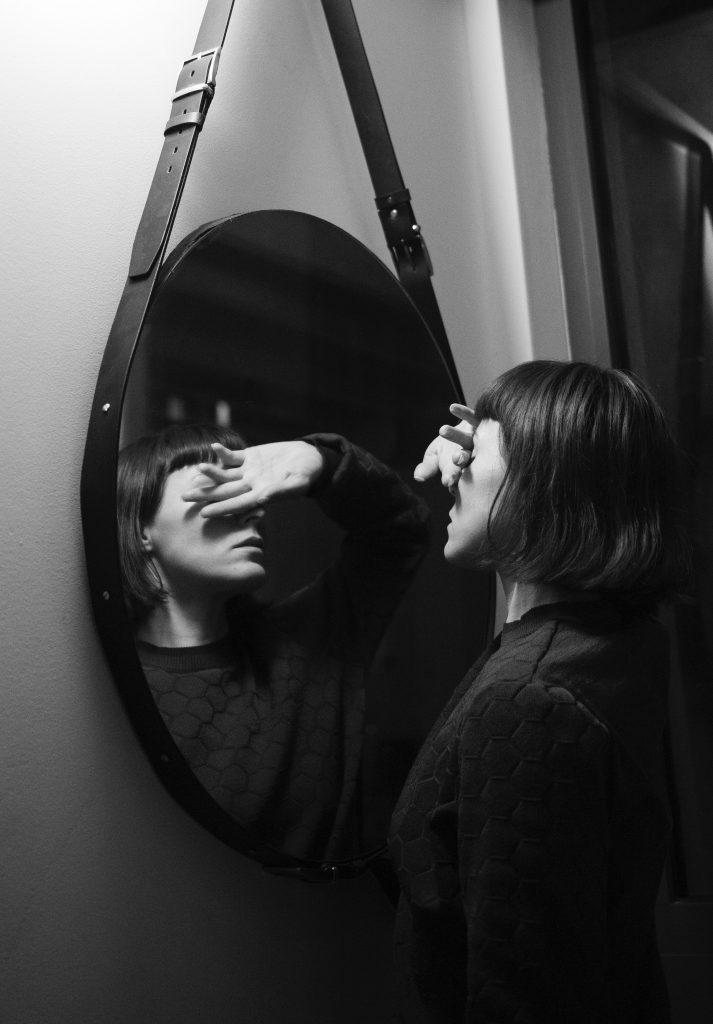 The tragedy of looking into the mirror is when natural man is put off by what is reflected back into his own conscience. Yes, the burning off of human dross can be very painful. Also at risk are Believers who accommodate introspection of self sporadically at their conveniences and according to their own standards. And/or at worse, Believers who abandon the process completely. It risks impairing or even halting progressive sanctification and repentance.  And considering the uncertain timing of a human life on earth or the soon return of the Lord, how will a non-transformed, lukewarm, bride-to-be recognize her groom? It would be like marrying a stranger and One who also does not know her.  Indeed, "Depart from me for I never knew you" will be heard by those who are denied entry into the glorious kingdom. (Mat. 7:21-23; Phil. 2:12, Mat. 25:30, Rev. 2:5, 3:16). Words no Believer – no one – should ever want to hear! 🙁
We Shall Be Like Him
The days of grace will soon terminate before the world enters unprecedented judgment. I believe that this is a timely latter-day vision which serves to remind all of us – and no one is exempt – about the importance of spiritual introspection in preparation for the time when the Lord will split the sky open and appear in the clouds of heaven. Until then, the Lord is merciful and forgiving and it behooves us to make the most of the time we have left on this old earth.
Beloved now we are the sons of God, and it does not yet appear what we shall be but we know that when he shall appear, we shall be like him (glorified) for we shall see him as he is. And every man that has this hope in him purifies himself as he is pure. (1 Jn. 3:2-3)
Spoken Word of Knowledge: Exactly
Keep the Faith. Keep your eyes focused heavenward and on Jesus Christ.
Suzanne