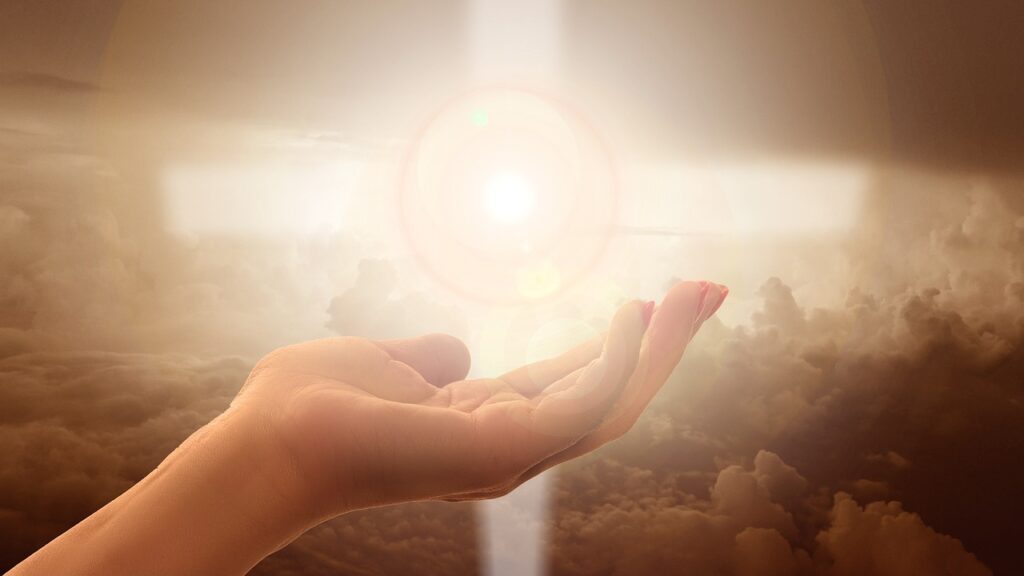 For the message of the cross is foolishness to those who are perishing, but to us who are being saved it is the power of God. (1 Cor. 1:18)
In His Presence
In an intense vision yesterday, I found myself looking at a point of light that suddenly exploded into a powerful, most brilliant and beautiful billowing white light. It encompassed my field of vision. In the midst of this awesome light stood the outline of a gigantic cross.
A Testimony In A Vision
It was immediately recognized that this was the Light of Christ who identified Himself with the Cross. Not that I categorize myself in the same standing as the great Apostle John, but I was reminded how he was shown a slain Lamb in heaven; a Lamb who represented none other than the sacrificial Jesus. I believe this vision was shown as a testimony to the world. That everything we read in scriptures about our Lord Jesus Christ is truth. That He was the One who lived, died and now lives again. That there is no way to obtain forgiveness of sins except through His grace and mercy. That there is no way back to the FATHER except through Him! That there is no way to receive the Holy Spirit except through His completed works and our obedience to the Word. And to recognize that as did our greatest Forerunner before us, we too are called to pick up our crosses and follow Him daily – even against the greatest odds.
Victory!
Importantly, the vision also conveys that Jesus gained the victory over the enemy through the Cross. And that we humbly stand under His Light, under His authority, under His freedom, under His great banner of Love, under His preeminence when He is made the Head of the body! (Col. 1:18; 2:10) The Lord does not forget His people nor does He leave them without a directional compass, loveless, destitute and comfortless. But tragically, people forget the reality of who He really was and really is…
A Day of Reckoning
This vision was also shown to testify to the world that He will return when the FATHER deems it to be the appropriate time.  And that when He does, this powerful brilliant Light will obliterate all that is wicked, impure and evil. Darkness does not recognize GOD'S truth nor the Light made available through the Cross of Redemption. And darkness cannot co-exist with Light. In the meantime, a call continues to go out to the world to prepare and recognize Him who was pierced while time still permits.  It's been noted often since the inception of this blog and it bears repeating that to protract a great design is to put it into jeopardy.
Then Jesus spoke to them again, saying, "I AM the light of the world. He who follows Me shall not walk in darkness, but have the light of life." (Jn. 18:12)
Beloved, now are we the sons of God, and it doth not yet appear what we shall be: but we know that, when he shall appear, we shall be like him; for we shall see him as he is. And every man that hath this hope in him purifies himself, even as he is pure. (1 Jn. 3:2-3)
And I will pour upon the house of David and upon the inhabitants of Jerusalem the spirit of grace and of supplication; and they shall look upon Me whom they have pierced, and they shall mourn for Him as one mourneth for his only son, and shall be in bitterness for Him as one who is in bitterness for his firstborn. (Zech. 12:10)
Then Jesus said to His disciples, "If anyone desires to come after Me, let him deny himself, and take up his cross, and follow Me.  For whoever desires to save his life will lose it, but whoever loses his life for My sake will find it.  For what profit is it to a man if he gains the whole world, and loses his own soul? Or what will a man give in exchange for his soul? (Mat. 16:24-26)
And to you who are troubled rest with us, when the Lord Jesus shall be revealed from heaven with his mighty angels,In flaming fire taking vengeance on them that know not God, and that obey not the gospel of our Lord Jesus Christ: Who shall be punished with everlasting destruction from **the presence of the Lord, and from the glory of his power.** When he shall come to be glorified in his saints, and to be admired in all them that believe (because our testimony among you was believed) in that day. (2 Thess. 1:7-10)
Apostle John's Testimony
Years ago, the following Words of Knowledge were spoken: Read Revelation Chapter Five. I encourage you to read through this illuminating chapter which Jesus' beloved Apostle penned so long ago. I am clearly hearing: Bless Your Heart. (He sees and hears EVERYTHING! – nothing is hidden from Him.)
Praise GOD and thanks be to our Lord and God Jesus Christ for all He has done and still does for us. Dearest eternal FATHER, I pray that all who read here will be blessed by this testimony. That all who have lost hope will find encouragement, refuge and strength in your glorious and merciful Son. That the sick, blind and lame will be healed. That the lost sheep will return to the Shepherd of their souls. That prisoners will be set free from all bondage. That death will not sting them but that they will be redeemed and restored into newness of abundant life. And that they all might have their places secured in the New Kingdom which is illuminated by YOU and your Son's timeless, pure, glorious and most beautiful Light. In Jesus' Holy Name always, Amen. (Rev. 21:23)
Keep the Faith. Rest and Rejoice in His Light. And keep the remembrance of Jesus' sacrificial and completed work centered in your life. It is the Power of GOD!
Suzanne