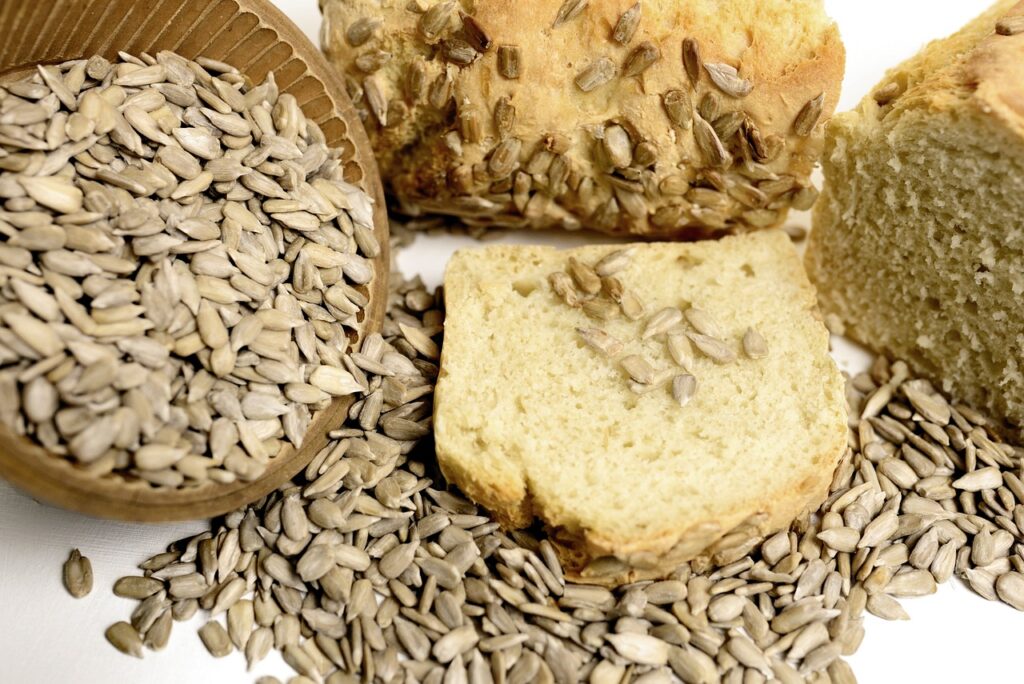 Now the parable is this: The seed is the word of God. (Lk. 8:11)
In a vision this morning a golden loaf of bread, sprinkled with a multitude of life-giving seeds, was shown resting on a counter in front of a woman.  Next she opens a drawer, pulls out a long-bladed silver knife and proceeds to cut into it.  She cuts into the Bread in a way that no seeds are left to waste.  
The woman represents Bible-believing Christians in the Body of Christ. From a biblical perspective, the seeded Bread represents the sprouting and life-giving Word of GOD.  The long-bladed knife represents, in this case, our GOD-given spiritual ability of being able to cut into the Word in order to discern it, to understand it, to partake of it and to grow. (Heb. 4:12) And for sure, just as Jesus multiplied Bread to feed a multitude so are we called to share the same with others for their benefit as well.  And, as Apostle Paul disclosed to Timothy, studying the Word is of paramount importance in achieving this great undertaking and mission.
Study to shew thyself approved unto God, a workman that needeth not to be ashamed, rightly dividing the word of truth. (2 Tim. 2:15)
In these verses, the Greek word for "rightly dividing" is orthotomounta. Ortho means "right or proper" and tomounta means "to cut." Literally, success in handling the Word is to cut it properly or correctly. As Believers in the Body of Christ, we present ourselves to GOD as unashamed workers when we properly handle and divide the life-giving Word of GOD during these latter days. You are encouraged today to get acquainted or reacquainted with the Word remembering always that the Cross of Christ is central to understanding scriptures lest we fall into legalism, deception and false doctrine.
Related Scriptures
All scripture is given by inspiration of God, and is profitable for doctrine, for reproof, for correction, for instruction in righteousness. (2 Tim. 3:16)
For I determined not to know anything among you, save Jesus Christ and Him crucified. (1 Cor. 2:2) Cf. For the message of the cross is foolishness to those who are perishing, but to us who are being saved it is the power of God. (1 Cor. 18:25)
For I am not ashamed of the gospel of Christ: for it is the power of God unto salvation to every one that believeth; to the Jew first, and also to the Greek. (Rom. 1:16)
And this gospel of the kingdom shall be preached in all the world for a witness unto all nations; and then shall the end come. (Mat. 24:14)
The Church is called to partake of the the Bread of Truth during these latter days for it is the Word and Power of GOD.
Keep the Faith,
Suzanne