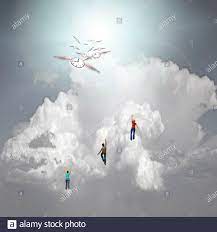 In an early morning vision I saw people surrounded by clouds. They, themselves, were made of the same substance. It brought to mind a vision from many years ago in which I was shown a man in like manner who was dripping wet with water. He was recognized as a prophet.
Related Verses:
"Then sang Deborah and Barak……Praise you the LORD for the avenging of Israel when the people willingly offered themselves…..LORD, when You went out of Seir, when You marched out of the field of Edom, the Earth trembled, and the heavens dropped, the clouds also dropped water." (Judges 5:4)
As sung by Deborah in the above verses, the dripping clouds are – on a higher note of understanding – symbolic of a chosen people who willingly offered themselves to GOD to be used to avenge Israel.  In accordance with the vision, the people in the clouds are faithful and willing witnesses whom the Lord will use to pour out His Holy Spirit (water) during the latter day rain. It will also be a New Covenant rain and testimony that will help bring those who are called from all around the world to victory! (Joel 2:28- Jer. 31:31/Heb.10:16)   We are warned that there will be false prophets and false doctrines in the latter days. But there will also be those who will genuinely speak prophetically and who will speak of the true doctrine. I am taking the liberty of noting that they will be part of that number who will be "taken up" in the clouds and who might also return in the clouds with the Lord when He stakes His final claim on this planet.
We are living in very prophetic days.
"The clouds poured out water: the skies sent out a sound: Your arrows also went abroad" (When Israel was delivered by the Lord – it will happen again when He returns) (Psalm 77:17)
"In the Light of the king's countenance is life: and his favour is as a cloud of the latter rain." (Prov. 16:15)
"Behold, He is coming with clouds, and every eye will see Him, even they who pierced Him. And all the tribes of the earth will mourn because of Him. Even so, Amen." (Rev. 1:7)
" Wherefore this we say to you by the word of the Lord, that we who are alive and remain until the coming of the Lord will by no means precede those who are asleep. For the Lord Himself will descend from heaven with a shout, with the voice of an archangel, and with the trumpet of God. And the dead in Christ will rise first. Then we who are alive and remain shall be caught up together with them in the clouds to meet the Lord in the air. And thus we shall always be with the Lord. Therefore comfort one another with these words." (1 Thess. 4:15-18)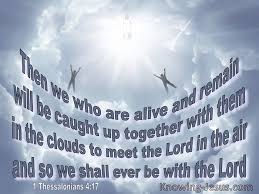 Clouds of Witnesses – Link:
Clouds of Witnesses – Vision
Keep the Faith,
Suzanne